Knights forward Robinson makes NCAA DI commitment
November 30, 2017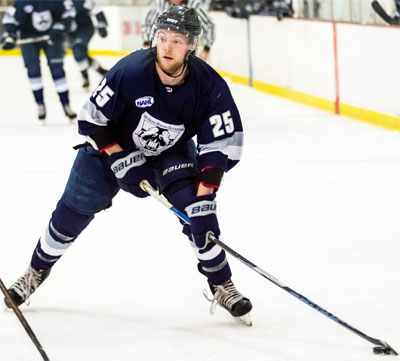 The Wilkes-Barre/Scranton Knights, proud members of the North American Hockey League (NAHL), are pleased to announce that forward Reed Robinson has committed to play NCAA Division I hockey for Niagara University. Robinson, 19, who is from Rockwall, Texas, has been a member of the Knights organization since 2015.
"Reed Robinson is one of our most veteran players," said Knights head coach Tom Kowal. "This is his third season playing in our organization. He's a guy who's improved every year and is proof of where hard work can take you."
Robinson is currently second on the Knights in scoring, with 10 goals and 14 assists in 25 games played in 2017-18. That total is ninth-highest in the North American Hockey League through the first three months of play.
"Reed's one of our most talented players, and one of our biggest threats on the ice," said Kowal. "Whether it's 5-on-5, 3-on-3, overtime, power play, or penalty kill, we're confident in putting him on the ice. He's one of our leaders in points this season, but more importantly he's one of our leaders in the locker room. He sets the tone and has really been a mentor to our younger players in helping them make the transition to junior hockey."
"I've spent the last two years focused on my fitness," said Robinson. "I think that's really helped me to become a point-per-game player and I think it's allowed me to help others on my team. Playing in the NAHL, it's a high level of play, and the competition is hard to beat. It's matured me."
It was Robinson's continued success at that level that brought him the attention of the Niagara University Purple Eagles, who play in the Atlantic Hockey Conference at the NCAA's division one level. The program has a new staff this season, one that has guided the Purple Eagles to a quick start in 2017-18.
"The coaching staff was really what stood out to me," said Robinson of his future home. "They've got the program going in the right direction, and I'm confident that I can play a role there. It's in a small town-everybody knows everybody and I like that. Niagara Falls is right there and it's right next to the Canadian border. It's a really beautiful place."
Robinson will spend the rest of his current season working to continue to improve his game as well as helping the Knights in their efforts in accomplishing their highest goal.
"We're tied for first right now, we want make a run," he said. "I want keep scoring and performing well but our ultimate goal is to win the Robertson Cup. I'm going to do whatever I can to help us get there."
"At the end of the day, Reed is a great addition for the Niagara Purple Eagles and for division one hockey," said Kowal. "He's earned it and we're thrilled he's being rewarded for it."