Sunday Wrap-Up: Knights, Jr. Blues finish with win
November 26, 2017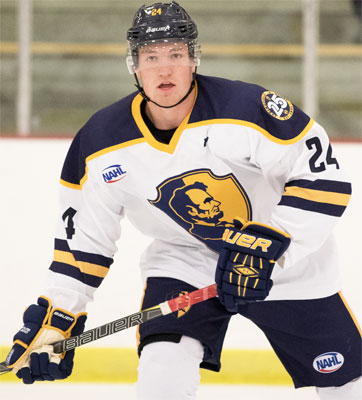 Philadelphia 1 @ Wilkes-Barre/Scranton 2
- Mounting 18 shots on net in the first frame, the Rebels could only push one puck by Knights goalie Christian Stoever, with that tally coming at 18:10 on the power play as Adam Peck scored on a rebound to give the Rebels the 1-0 lead. Neither team found the twine in the 2nd period, with Stoever stopping eight shots, and Rebels goalie Ryan Keane saving six. Around the 9:30 mark of the third period Jack Olmstead, Curtis Carlson, and Matt Kidney set up shop in the Philadelphia zone. With Luke Robinson and Tom Farrell on the back end, the Knights cycled effectively until Kidney put a shot on goal that pulled Keane out of the net and generated a heavy rebound that Carlson buried to tie the game at one. In the final minute of regulation, the Knights again would again stand up on the puck in the attacking zone. This time it was Reed Robinson feeding a pass to Luke Robinson, who turned a shot in front which was re-directed to twine by a camped out Michael Morrissey for the game-winner. Stoever would make 45 saves in the win, while Keane made 14 saves in the loss.
Boxscore
Springfield 4 @ MN Magicians 0
– Connor Poczos posted his first career NAHL shutout as the netminder stopped all 38 shots that came his way in a 4-0 road win against the Minnesota Magicians, which also completed a weekend sweep. Ethan Stewart and Nikita Kozyrev each had a goal and an assist to pace the Jr. Blues. Stewart started the scoring with a 1st period goal, which would stand as the game-winner. Jeff Skinner scored his 8th goal of the season in the 2nd period to make it 2-0. The Jr. Blues would then add two more goals in the 3rd period, including one from Bradley Marek and another from Kozyrev. George McBey took the loss in goal for the Magicians, making 21 saves.
Boxscore