November 24, 2017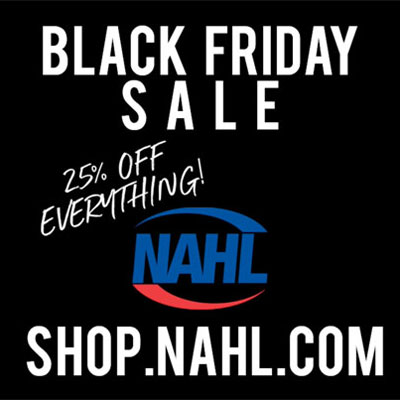 It was a short turnaround for enjoying some time off and giving thanks as a full slate of games is on tap this weekend, in what is traditionally some of the most well attending games of the year in the NAHL.
The post-Thanksgiving weekend offers up 22 games from Friday-Sunday for the last weekend in November. The halfway point of the season in December is just on the horizon and the standings watch is already well underway.
In the Central Division, a couple of big series take place as the Bismarck Bobcats and Aberdeen Wings face off in a home-and-home series, while the Brookings Blizzard is in Minot to take on the Minotauros. Bismarck and Aberdeen sit tied atop of the division with 24 points, while Brookings is a point behind with 23. The Austin Bruins, who are 5-0-1 in their last six games, are in 4th place with 22 points and have a out of division home-and-home series with the Coulee Region Chill. The Minnesota Wilderness, who won earlier this week, have a tough out of the division road series in Janesville.
In the East, the New Jersey Titans are back after a week off as they host the Northeast Generals for a pair of games on Friday and Saturday. On Saturday and Sunday, the Wilkes-Barre/Scranton Knights host the Philadelphia Rebels. The Rebels sit just one point ahead of the Knights for the division lead, while the Generals are just two points behind. Johnstown is idle this weekend.
In the Midwest Division, the 1st place Jets host the Wilderness from the Central Division, while the Chill have a home-and-home out of the division with Austin. The other two series features the battle of Alaska as Kenai River hosts Fairbanks and in the other series the Minnesota Magicians host the Springfield Jr. Blues.
In the South Division, both the Shreveport Mudbugs and the Corpus Christi IceRays are 5-0-1 in their last six games and both put their hot streaks on the line this weekend. The IceRays are in Odessa, while the 1st place Mugbugs are in Topeka. Amarillo will be looking to snap their two-game slide with a series at Lone Star.
Friday, November 24th
Northeast at New Jersey - 7:00 PM EST
MN Wilderness at Janesville - 7:00 PM CST
Coulee Region at Austin - 7:05 PM CST
Shreveport at Topeka - 7:05 PM CST
Corpus Christi at Odessa - 7:11 PM CST
Bismarck at Aberdeen - 7:15 PM CST
Amarillo at Lone Star - 7:30 PM CST
Brookings at Minot - 7:35 PM CST
Fairbanks at Kenai River - 7:30 PM AKST
Saturday, November 25th
Northeast at New Jersey - 7:00 PM EST
Philadelphia at Wilkes-Barre/Scranton - 7:30 PM EST
Austin at Coulee Region - 7:00 PM CST
MN Wilderness at Janesville - 7:00 PM CST
Springfield at MN Magicians - 7:05 PM CST
Shreveport at Topeka - 7:05 PM CST
Corpus Christi at Odessa - 7:11 PM CST
Aberdeen at Bismarck - 7:15 PM CST
Amarillo at Lone Star - 7:30 PM CST
Brookings at Minot - 7:35 PM CST
Fairbanks at Kenai River - 7:30 PM AKST
Sunday, November 26th
Philadelphia at Wilkes-Barre/Scranton - 2:00 PM EST
Springfield at MN Magicians - 6:05 PM CST