NAHL announces Bauer Divisional Stars of the Week
November 13, 2017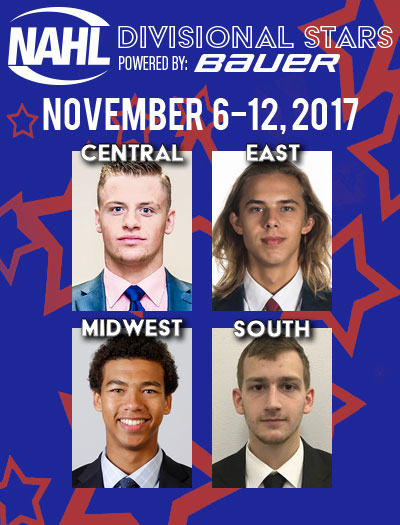 The North American Hockey League (NAHL) today announced the Divisional Stars of the Week presented by Bauer Hockey for the week ending November 12, 2017. The Bauer Hockey Divisional Stars of the Week is a weekly feature during the 2017-18 regular season that honors the top performing players in each of the four NAHL divisions. Only players that are nominated by their respective teams are considered for the Divisional Players of the Week award.
Central Division Star of the Week: Miroslav Mucha, forward, Minot Minotauros
Minot Minotauros forward Miroslav Mucha, 20, had a big weekend for the Minotauros in their weekend split in Alaska against Kenai River. The 6'0/160 lbs. native of Bytca, Slovakia, scored three goals in the two games to lead the Minotauros offensively. On Friday, Mucha scored two goals in a 6-3 win, and on Saturday, he recorded Minot's lone goal in a 2-1 loss. For the season, Mucha leads the Minotauros in scoring with 18 points in 17 games played. "Miroslav has had an exceptional season for us thus far. I thought he really came on at the end of last season and the confidence he gained has carried into this season. He works extremely hard in both practice and games and has established as a premier power forward in the Central Division. He's become a consistent goal scorer every night and someone we lean on in all situations," said Minot head coach Marty Murray.
2nd Star: Evan Cholak, F, Austin Bruins
Honorable Mention (alphabetical): Nathan Burke, F, Aberdeen Wings - Rykr Cole, F, Minot Minotauros – Luke Dow, F, Minnesota Wilderness – Travis Kothenbeutel, F, Austin Bruins – Joe Strada, F, Aberdeen Wings – Ben Ward, F, Minnesota Wilderness
East Division Star of the Week: Britt League, goaltender, Johnstown Tomahawks
Johnstown got back on track this weekend by taking three of four point in their home series against the 1st place Wilkes-Barre/Scranton Knights. Goaltender Britt League, 18, started in both games and played very well. On Friday, the 6'0/165 lbs. native of Chesapeake, Virginia, made 35 saves through regulation and overtime, and then stopped 5 of 7 shooters in a 3-2 shootout loss. On Saturday, League posted his first shutout of the season, stopping all 28 shots that came his way in a 3-0 win. For the weekend, he stopped 63 of 65 shots. "We were able to pick up 3 out of 4 points this weekend against a really good offensive Wilkes-Barre team, who had been playing very well. Britt was very strong in both games for us. Friday night he gave us a really strong chance to win, where we unfortunately fell short in a shootout, but he bounced back Saturday with a shutout in our 3-0 win. He has gained more and more confidence everyday and showed that this weekend. Every point we can pick up for us is big, and having two games from him like that was a big part of us being able to take 3 of 4 points," said Tomahawks head coach Mike Letizia.
2nd Star: Christian Gorscak, F, Johnstown Tomahawks
Honorable Mention (alphabetical): None
Midwest Division Star of the Week: Isaiah Saville, goaltender, Minnesota Magicians
University of Nebraska-Omaha commit Isaiah Saville, 17, was rock solid again this past weekend as he helped the Magicians keep pace in the Midwest Division. The 6'1/180 lbs. native of Anchorage, Alaska, stopped 67 of a possible 70 shots in two games over the weekend. On Friday, Saville made 32 saves in a close 2-1 loss to the Minnesota Wilderness. On Saturday, he was even better as he made 35 saves in a 4-1 win. Saville is having a torrid month of November and has allowed just eight goals in his last five starts. "Isaiah has been very solid for us this season. He is becoming very consistent in practice and that has translated well to his game over the last month," said Magicians head coach Scott Meyer.
2nd Star: Jakov Novak, F, Janesville Jets
Honorable Mention (alphabetical): Nick Bowman, F, Coulee Region Chill – Max Brainin, F, Springfield Jr. Blues – Zach Krajnik, F, Kenai River Brown Bears - Daniel Lebedeff, G, Janesville Jets – Kyle Mayhew, D, Fairbanks Ice Dogs – George McBey, G, Minnesota Magicians – Andy McGlynn, F, Coulee Region Chill – Luke Radetic, F, Kenai River Brown Bears – Patrick Smyth, F, Springfield Jr. Blues – Erkka Vanska, F, Fairbanks Ice Dogs
South Division Star of the Week: Larry Jungwirth, forward, Corpus Christi IceRays
For the second straight week, Corpus Christi IceRays forward Larry Jungwirth, 20, has been named the South Division Star of the Week. This past week, Jungwirth (5'11/170) recorded 5 points (4 goals, 1 assist) and was +2 in a weekend home sweep of the Topeka RoadRunners. On Friday, the native of Bloomington, Minnesota, had a hat-trick and an assist, which also included the game-winning goal in a 5-2 win. On Saturday, Jungwirth scored again in a 4-3 overtime win. He currently leads the IceRays in scoring with 17 points in 18 games played. "Larry had an extremely large weekend for us offensively in helping our team get big points in the standings. Although he is winning this award for his offensive contributions, I think those are rewards for the defensive details he has been working very hard at without the puck. Larry has evolved his game from being strictly an offensive player to a responsible player doing the little things well without the puck to get the puck back and have more time playing offense," said IceRays head coach Brad Flynn.
2nd Star: Mitchell Gibson, G, Lone Star Brahmas
Honorable Mention (alphabetical): James Durham, G, Shreveport Mudbugs – Nick Granowicz, F, Topeka RoadRunners – Gustav Grigals, G, Shreveport Mudbugs – Sam Martel, D, Topeka RoadRunners - Brendan Miller, F, Corpus Christi IceRays – Ryan Orgel, D, Lone Star Brahmas