Sunday Wrap-Up: Knights close in on 1st place with 3-game sweep
November 6, 2017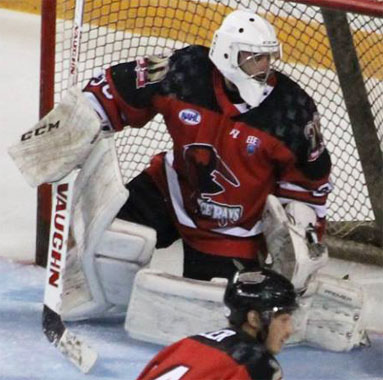 Corpus Christi 6 @ Topeka 1 – Larry Jungwirth and Rylee St. Onge each had three-point games as the IceRays completed their long road swing with a 6-1 win on Sunday over the RoadRunners, which completed the weekend sweep. The IceRays opened up a 2-0 lead in the 1st period with goals from C.J. Regula and St. Onge. The RoadRunners cut into the lead early in the 2nd period with a goal from Nick Granowicz, but the IceRays responded with four unanswered goals to secure the win, including three goals in the 2nd period from Noah Roofe, Garrett Hallford and Jungwirth. In the 3rd period, Jungwirth would add his second goal of the game to secure the win. Chad Veltri made 40 saves in the win, while Emil Gransoe took the loss with 15 saves before being pulled.
New Jersey 2 @ Johnstown 1 – The New Jersey Titans took the runner match of their three-game series in Johnstown thanks to a 2-1 win on Sunday. The first period saw the New Jersey Titans controlling play as they outshot the Johnstown Tomahawks, 19-3. Tomahawks' netminder, Jack Leavy, was solid in net and kept the game scoreless after one period of play. In the second period it was the New Jersey Titans that struck first. Nick Boyagian scored an unassisted backhand goal at 8:43 to give the Titans the 1-0 lead. Johnstown would then tie the game at 11:09 when Cade Groton scored his fourth goal of the season. Mitchell Hale and Andrew Andary picked up the assists. In the third period, New Jersey pulled ahead and sealed the victory at 10:06 when Gavin Gulash put the puck just over the goal line. The assists went to Ryan Wheeler and Matt Cameron. Brandon Perrone made 13 saves in the win, while Leavy turned away 36 of 38 shots in the loss.
Wilkes-Barre/Scranton 4 @ Northeast 1 – Matt Kidney scored twice to help the Knights to a 4-1 win on Sunday, which completed a three-game weekend sweep of the Generals. Kidney started the scoring midway through the 1st period with his 4th goal of the season. The Knights turned on the jets in the 2nd period, scoring three more goals including another from Kidney and others from Reed Robinson and Mike Gelatt. The Generals finally broke through early in the 3rd period on the power play as Luke Perunovich scored his 2nd goal of the year. Knights goalie Christian Stoever made 32 saves in the win, while Generals goalie David Fessenden made 41 saves in the loss.