Bismarck forward Johnson makes NCAA DI commitment
August 18, 2017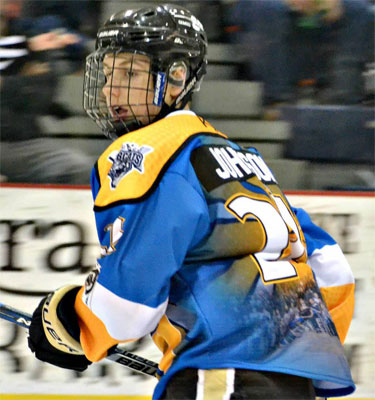 By Paul Teeple, Bismarck Bobcats
Just over a week before he will report to 2017 Training Camp for the North American Hockey League's (NAHL) Bismarck Bobcats, returning forward Grant Johnson announced Thursday that he has committed to play NCAA Division I hockey at Northern Michigan University starting in the 2019-20 season.
"It's great to have the decision made and to just be able to focus on the upcoming season," stated Johnson, who is one of 12 returning skaters from the Bobcats' 2016-17 campaign.
Following an eye-popping 85-point season en route to a North Dakota state title with Grand Forks Central High School, Johnson joined the Cats in March—scoring a goal in his first NAHL game on March 4 on his way to seven points in 11 appearances in black and gold.
"Our whole organization is thrilled for this opportunity for Grant, as we know first-hand how hard he has worked for it," effused Bobcats head coach and general manager Layne Sedevie. "We're excited to have him back, as well; we expect him to not only be a key contributor this season but also a leader on our team with his NAHL experience."
The Wildcats play in the historic WCHA conference, and are led by first-year head coach Grant Potulny, a former assistant at the University of Minnesota. Potulny's associate head coach in Marquette is former Bobcats bench boss Byron Pool.
"The coaching staff really impressed me and Marquette is a beautiful town," added Johnson, who was voted North Dakota's Outstanding Senior Athlete in hockey for 2017. "When I went on my visit it just felt right."
Johnson and the rest of the 2017-18 Bobcats report back to the capital on Sunday, August 27, with Training Camp beginning the next day.