NAHL announces partnership with Anchorpegs
July 26, 2017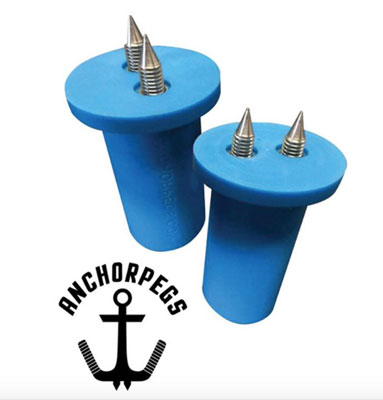 The North American Hockey League (NAHL) has announced its partnership with Anchorpegs and Quik Innovative Hockey Products as the preferred goal pegs for the NAHL, North American Prospects Hockey League (NAPHL) and North American 3 Hockey League (NA3HL).
Anchorpegs are goal pegs that are specifically designed to anchor the net into the ice without moving while goaltenders push and move post to post. The anchor tips drill a 1/2 inch hole into the ice while the threads freeze and grip for a solid anchor. Anchorpegs are specifically designed to meet the needs of goaltender training and are lightweight making it easy and affordable for goaltender programs to travel with numerous sets. Quik Innovative Hockey Products located in Halifax, Nova Scotia are the Inventors, and Sole Manufacturers of the Anchorpegs.
"This is the first time we have entered into a partnership with this type of product, but the timing is perfect because for years teams and goalies have shared the frustration of getting on the ice and not feel like the net has been properly secured down during practice or a game, especially those that require pushing from the post," said Alex Kyrias, Director of Communications, Sales and Marketing for the NAHL. "Now, all the teams in our three leagues have a solution. We tested the Anchorpegs out at the NAHL Future Prospects Combine in Duluth, Minnesota and received very positive feedback."
The NAHL, NAPHL and NA3HL will join the long list of teams and leagues that are using Anchorpegs, which includes 21 NHL Teams and 19 AHL teams at their practice facilities and when they are on the road. In addition, teams in the NCAA, QMJHL and other leagues are also anchoring down with the Anchorpegs.
NAHL, NAPHL and NA3HL teams can purchase their Anchorpegs online here.
The technology behind Anchorpegs is groundbreaking. At the base of the Anchorpeg there are threaded "Quik Tips" that drill a hole into the ice at a depth of 1/4'' to 3/4''. Once the Anchorpegs "Quik Tips" are in the ice the thread fuses to the ice much like when you stick you tongue on a steel pipe on a cold winters day.A "Quik Tip" freeze makes the Anchorpegs solid and secure giving goalies confidence in a "No Net Movement" practice.
"We are excited about the partnership with the NAHL, NAPHL and NA3HL because it is hockey development at the grass roots level. This is a product that all teams and goalies should be excited about and we are looking forward to seeing the product implemented at several league-wide events," said Mark Gilbeault, Co-Founder of Anchorpegs.


About Anchorpegs
Anchorpegs was founded by Jack Hartigan and Mark Gilbeault. As the game of hockey has evolved, goaltenders have to as well . Like never before Goaltenders have incorporated post integration training and RVH movements into their skillsets. To further aid in the development of goaltenders "Quik" Innovative Hockey is proud to Introduce to Goalie Pals in North America and around the world, the "Anchorpegs": A New Era of Net Peg Anchoring Systems Begins. Check out Anchorpegs online at: http://www.b2bquik.com/