NAHL alums lead USA to gold medal
July 5, 2017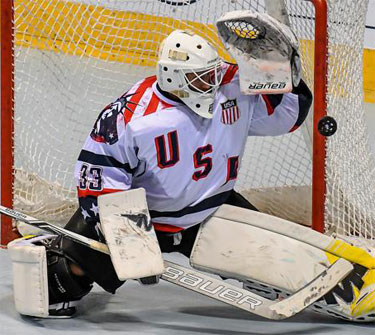 Led by five NAHL alumni, the U.S. National Inline Team jumped out to a 4-0 lead and went on to a 4-2 victory over Finland in the gold-medal game over the weekend at the 2017 International Ice Hockey Federation Inline World Championship. Eight different players collected a point to help the U.S. to its record seventh gold medal in the event.
''We are absolutely thrilled to bring the gold medal back to USA Hockey!" said Joe Cook, head coach of the 2017 U.S. National Inline Team. "It's been an honor to coach this team it was an incredible effort from great players.''
Five of the 14 players on the roster were graduates of the North American Hockey League (NAHL). They were:
Nielson Arcibal, Defense (Texas Tornado, 2005-07)
Jalen Krogman, Defense (Odessa Jackalopes, 2011-13)
Jerry Kuhn, Goaltender (Youngstown Phantoms, 2004-05 & Wasilla Spirit, 2005-06)
Troy Redmann, Goaltender (Bozeman Icedogs, 2003-04/Soo Eagles, 2004-05/Texas Tornado, 2005-06)
Tyler Spezia, Forward (Port Huron Fighting Falcons, 2012-13)
Troy Redmann (Brea, Calif.) made 23 saves to earn his fourth victory of the competition in goal for the U.S. Redman was also named as the tournament's top goaltender.