Fairbanks goalie Gordon makes NCAA DI commitment
June 28, 2017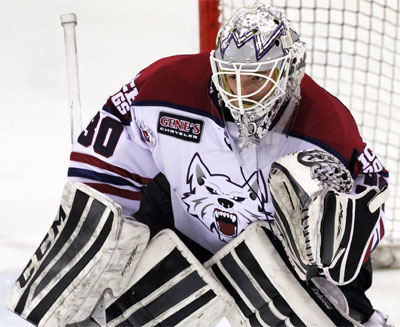 By Danny Martin, News-Miner
Erik Gordon, who was stellar for the Fairbanks Ice Dogs in his only season with the North American Hockey League powerhouse, signed a National Letter of Intent with the NCAA Division I hockey program at Holy Cross University in Worcester, Massachusetts.
"We're obviously very excited for Erik to have the opportunity to play Division I hockey at a school that does really well in their league every year, and then on top of that, for him to be able to fulfill his academic abilities at such a prestigious university," Ice Dogs head coach Trevor Stewart said by cellphone Tuesday afternoon.
Gordon's commitment to Holy Cross, one of 11 members of Atlantic Hockey, is effective for the 2018-19 season, and it is anticipated he will be playing in the upcoming season with the Bloomington (Illinois) Thunder, of the United States Hockey League. Gordon spent four games in the USHL this past season with the U.S. National Team Development Program Under-Age 18 Team based in Plymouth, Michigan.
Gordon, 18, made his college decision after his campus visit to Holy Cross last weekend. He said he plans to major in engineering there.
"It's a beautiful campus, and it's in the heart of Massachusetts," Gordon said Tuesday night from his hometown of Duluth, Georgia.
"They're putting in a new multi-million dollar athletic complex that is unbelievable," he continued. "You just walk in there and it's like, 'Wow, this is crazy.' It's just a great community and it's an up-and-coming hockey team with a great coaching staff that really showed belief in me, and that was something I was looking for. I liked everything that they had to offer."
The Ice Dogs liked what the 5-foot-10 and 170-pound Gordon offered after he came to Fairbanks through a trade with the Lone Star Brahmas, of North Richland, Texas, in the NAHL South Division.
"He's a player that we kind of stayed out of his way. He had a routine and he's one of those players who understood the bigger picture and what needed to be done," Stewart said. "The guys played hard in front of him, and he made our team better."
Gordon helped the Ice Dogs place second in the Midwest Division in the regular season, as he compiled a 24-3-0-0 record with a 1.89 goals against average, .928 saves percentage and four shutouts.
He backstopped a three-game sweep of the Minnesota Magicians in a Midwest Division semifinal series and was in the net for the Ice Dogs during the division final series against the Janesville (Wisconsin) Jets.
"I loved every moment up in Fairbanks. It was an unbelievable experience," Gordon said. "I'd go back there in a heartbeat. It's just a great community, and the Ice Dogs really have something special there."
"I had a great coaching staff there and they believed in me," Gordon said of Stewart and assistant coach Scott Deur.
Gordon garnered four NAHL postseason honors — All-NAHL Second Team, Midwest Division Goaltender of the Year, All-NAHL Rookie Second Team and All-Midwest Division Rookie Team.