Rebels win East, advance to Robertson Cup as #1 seed
May 7, 2017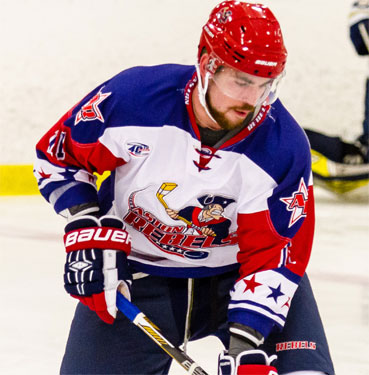 The Aston Rebels, Janesville Jets and Lone Star Brahmas are three of the four teams that will compete in the 2017 NAHL Robertson Cup, May 11-14 in Duluth, Minnesota.
For fans and family looking for Robertson Cup info, please visit the event page here
Hotel information can be found here
Sunday recap:
East Division Finals, Game 5: New Jersey 2 @ Aston 6 (Aston wins series 3-2) – For the second time in as many seasons, the Aston Rebels are the East Division Playoff Champions and headed to the Robertson Cup Championship thanks to a 6-2 win in Game 5 over New Jersey on Sunday night. The Rebels became the third team to punch their ticket to the event, joining the Lone Star Brahmas and Janesville Jets. The Rebels will be the #1 seed at the event and take on the #4 seed in the Semi-Finals, which will be either the Minnesota Wilderness or the Aberdeen Wings.
The Rebels, who are playing without NAHL MVP and goalie of the year Mareks Mitens, had little problem establishing their dominance in the decisive Game 5, limiting the Titans to just 16 shots in the entire game on Rebels goalie Jack Leavy. Ryan Solomon gave the Rebels an early 1-0 lead with a goal in the 1st period.
The 2nd period was the backbreaker as the Rebels scored four times in the frame, which chased New Jersey starting goalie Ryan Ferland from the game in favor of Brandon Perrone. Evgeny Yakovlev had two goals in the 2nd period and Dustin Manz and Gvido Jansons also scored. Aaron Maguyon picked up three assists in the 2nd period as well. New Jersey tried to keep pace with two goals of their own in period, both coming off the stick of Gordie Helmuth.
Drew Blackmun added a late 3rd period empty-net goal as icing on the cake to send the Rebels to Duluth. Leavy had to make just 14 saves in the win, while Ferland took the loss, making 22 saves and Perrone made 11 saves in a relief effort.