IceRays take series lead with 4-1 win on Tuesday
May 3, 2017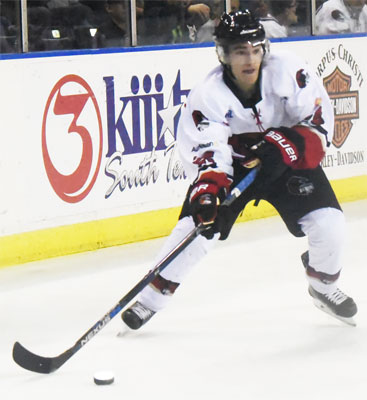 South Division Finals, Game 3: Lone Star 1 @ Corpus Christi 4 (Corpus Christi leads series, 2-1) - The Corpus Christi IceRays held to a late lead and sealed their fate with two empty net goals to grab a 4-1 series lead over the Lone Star Brahmas on Tuesday night at the Dr Pepper StarCenter. The IceRays own a 2-1 series lead in the South Division Finals with a chance to clinch the set Wednesday night in Game 4.
Despite 13 shots in the first period from the Brahmas, the IceRays kept the opponents away from scoring and added their first of the night in the second period. At 2:46, IceRays forward Griffin Loughran threw a slap shot from the neutral zone that knucked through the netminder to take a 1-0 lead. IceRays forward Garrett Hallford nearly knocked in the second goal of the night minutes after, but his tally was called back after being initially counted as a goal.
The IceRays did find that doubling goal in the third period at 2:25 thanks to Loughran, who took away a puck from the Brahmas netminder behind the net and wrapped it around the post, taking a 2-0 lead. The Brahmas were held for five-straight periods without a goal until 8:03 when forward Troy York knocked in a one-timer from the left circle to cut the lead in half, 2-1. Tension mounted as the final frame wore on, and after the Brahmas netminder was pulled, the IceRays sealed the win with two empty net goals first at 18:59 from center Mason Krueger then the second at 19:46 from forward Cole Gammer to claim a 4-1 win and the 2-1 series lead.
IceRays netminder Tomas Vomacka earned the win, turning aside 34 of 35 shots. Brahmas goaltender Alec Calvaruso stopped eight of nine shots in 26:45 minutes, and Max Prawdzik recorded the loss, halting 11 of 12 shots in 32:57 of relief. Game 4 is Wednesday, May 3 at 7:15 p.m. from Dr. Pepper StarCenter in McKinney.