Wilderness advance to Central Finals with 6-3 win in Game 5
April 25, 2017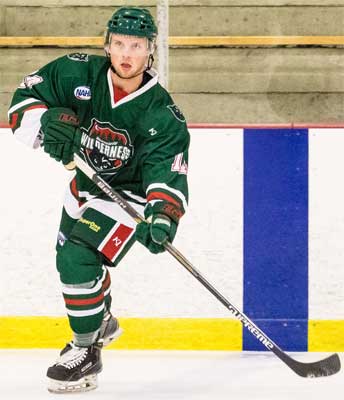 By Matt Wellens, Duluth Tribune
Central Division Semi-Finals, Game 5: Brookings Blizzard 3 @ Minnesota Wilderness 6 (Wilderness win series, 3-2) – NAHL and Minnesota Wilderness forward Zach Mills tried his hardest to deprive the 1,043 fans at Northwoods Arena of their hats Monday on a cold and windy 36-degree night in Cloquet. Unfortunately for the native of Cottage Grove, Minn. — though fortunately for the warmth of the fans' noggins — he fell a goal short.
No matter. Mills will have at least three more tries — including two more this week in Cloquet — at a hat trick after the second-seeded Wilderness prevailed 6-3 on Monday over the third-seeded Brookings (S.D.) Blizzard in Game 5 of a best-of-five North American Hockey League first-round playoff series. Minnesota now advances to the NAHL division finals to face the fourth-seeded Aberdeen Wings, who scored a four-game upset of Central Division regular-season champion Minot in the first round.
The series begins Friday and Saturday at Northwoods Arena in Cloquet — puck drop is 7:05 p.m. both nights — before shifting to Aberdeen the following weekend. The winner advances to the Robertson Cup semifinals and final, which will take place May 11-14 at Heritage Center in Duluth.
"It would mean the world to me," Wilderness forward Ashton Altmann said of getting to the Robertson Cup semifinals and final. Altmann is one of four former Duluth East Greyhounds on this year's Wilderness squad.
"I had a lot of games in that building. It would be so nice to get back. A lot of history there. ... We're looking forward to it, but we have to take care of business with Aberdeen first."
Altmann was one of five Wilderness goal-scorers Monday, along with Mills, Tyler Vold, Eric Gotz of Hermantown, and Jesse Farabee.
The two for Mills, on six shots on goal, brought his postseason goal total to four and point total to seven — both tops in the NAHL in the postseason.
"You want big-time players that play big in big-time games," first-year Wilderness coach Tim Madsen said of Mills. "I couldn't be more proud of that kid."
Mills tied the game at 1-1 in the first period after taking a feed in the slot from Michael Zuffante before backhanding the puck through. He'd tie the game at 3-3 in the second after slipping the puck past Brookings goalie Josh Boyko from the top of the faceoff circle.
"Both of my linemates made some great plays," Mills said of his goals. "All year we've been working on making those passes on the zone entry and we executed."
After a 2-2 first period, Brandon Kruse put the Blizzard up 3-2 just 1:29 into the second period. From there, the Wilderness would record four unanswered goals, with Mills tying the game at 8:40 of the second.
Gotz tallied the game-winner with 1:31 to play in the second period, while Altmann and Farabee added insurance in the opening nine-plus minutes of third.
The two sides combined for 85 shots on goal — including 38 in the second period alone — as Boyko finished with 31 saves for Brookings and Luke Kania made 45 for Minnesota.
The game was so offensive, Kania nearly got in on the scoring, missing an empty net by just inches to the right in the final minutes.
"I couldn't be more proud," Madsen said. "We had a slow start to the game in the first 10 minutes. I think we were nervous, we were tentative. After we got that first goal, we started playing better, we started getting more energy. Before you know it, we were going hard to the net, making plays. We ended up putting up six, so I'm really proud of the effort."
Blizzard goals came from Cameron Teamor and John Siebenaler in the 1st period and Brandon Kruse in the 2nd period.