Brooking forward Ahcan makes NCAA DI commitment
April 20, 2017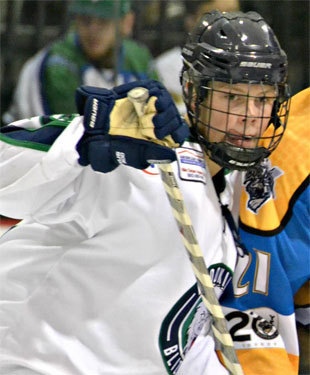 The Brookings Blizzard, proud members of the North American Hockey League (NAHL), are proud to announce that forward Roman Ahcan has committed to play NCAA Division I hockey for the University of Wisconsin of the B1G Conference.
Ahcan, 18, a native of Savage, Minnesota was on Blizzard roster for portions of the 2016-17 season and also had a great senior season with Burnsville High School in Minnesota.
Ahcan (5'9/145) made his NAHL debut in November with the Blizzard, playing in a pair of games. He later then joined back up with the Blizzard in March after completing his high school season. In 10 NAHL regular season games, Ahcan recorded two points during the regular season. He also has one point in one playoff game so far during the 2017 Robertson Cup Playoffs.
In 25 games during his senior season in high school, Ahcan had 18 goals and 33 assists for 51 points to lead the Blaze.
Ahcan is the 5th recruit of the 2017-18 class for the Blizzard to commit to a Division 1 school, including tendered players Henry Enebak (St. Cloud, NCHC), Logan Pietila (Michigan Tech, WCHA), Alex Barber (Bowling Green, WCHA), and Max Sasson ( Maine, Hockey East).
With his commitment Ahcan, also becomes the 4th member of the 2016-17 team to commit to a Division 1 school along with leading scorer Paul Cotter ( Western Michigan, NCHC), Brandon Kruse (Bowling Green, WCHA) and Chase Gamelin (Lake Superior State University, WCHA).