NAHL announces Bauer Divisional Stars of the Week
April 3, 2017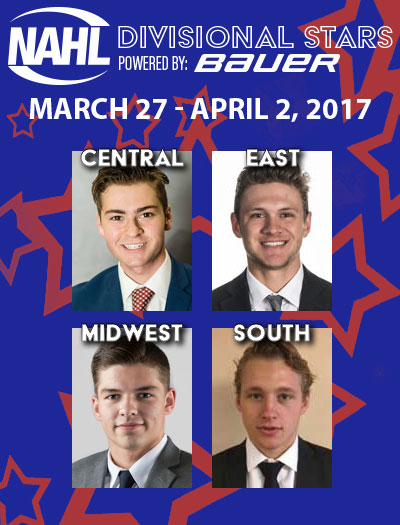 The North American Hockey League (NAHL) today announced the Divisional Stars of the Week presented by Bauer Hockey for the week ending April 2, 2017. The Bauer Hockey Divisional Stars of the Week is a weekly feature during the 2016-17 regular season that honors the top performing players in each of the four NAHL divisions. Only players that are nominated by their respective teams are considered for the Divisional Players of the Week award.
Central Division Star of the Week: Alex Schilling, goaltender, Austin Bruins
With the Bruins out of the playoff picture in the Central Division, they put up quite the competitive series this past weekend in Minot. Goalie Alex Schilling, 19, posted two good starts, helping his team earn three of a possible four points. On Friday, the native of Medina, Minnesota, had 34 saves in a 3-2 overtime loss. On Saturday, Schilling (6'1/185) posted his first shutout of the season, stopping all 37 shots that came his way in a 3-0 win. For the weekend, Schilling stopped 71 of a possible 74 shots that came his way. "Alex had a breakthrough weekend for us. He kept both games close against a very good opponent in Minot. Through his ups and downs this season he has learned a tremendous amount and we are proud to see that come through this weekend for him," said Austin head coach Kyle Grabowski.
2nd Star: Colin Raver, F, Aberdeen Wings
Honorable Mention (alphabetical): Matt Barry, F, Bismarck Bobcats – Alexander Esbjors, F, Minnesota Wilderness – Jesse Farabee, F, Minnesota Wilderness – Derek Frentz, F, Minot Minotauros – Jiei Halliday, D, Bismarck Bobcats – Carter Roo, F, Aberdeen Wings – Reid Stefanson, F, Minot Minotauros
East Division Star of the Week: Nick Bruce, forward, Johnstown Tomahawks
With wins in two of three games this past weekend, Johnstown locked up the #2 seed in the East. Forward and leading scorer Nick Bruce, 20, was up to his usual production as the native of Fall River, Nova Scotia, had eight points (3 goals, 5 assists) in three games against the Northeast Generals. That included a hat-trick and three assists in an 8-3 win on Saturday. Bruce (6'2/178) leads the Tomahawks in scoring this season with 66 points in 58 games played. "This is Nick's fifth time winning the Player of the Week award this season and I can honestly say each weekend, he seems to find a way to do something more impressive. The growth he has shown over the course of this season has been remarkable. His ability to dominate games has shown through in the production he has put out week after week moving up the league's scoring leaders rank. Ultimately, it's his inner self-drive, commitment to playing 200 feet and the ability to make all the players around him better that is so admirable. He has proven to be an elite NCAA Division I prospect in my eyes and any team that makes a commitment to Nick is going to be extremely lucky to have a player and person like him," said Johnstown head coach Mike Letizia.
2nd Star: Evan Somoza, F, Johnstown Tomahawks
Honorable Mention (alphabetical): None
Midwest Division Star of the Week: Jake Barczewski, goaltender, Janesville Jets
It was a busy week for Jets goalie Jake Barczewski, 18, who played in three games this week. The native of O'Fallon, Missouri, posted a 2-1 record and faced a total of 130 shots in the three games. Barczewski (6'3/180) allowed just six goals and made 124 saves in the three games. On Tuesday, he made 36 saves in a 4-1 win in Springfield. On Friday, he made a season-high 48 saves in a 4-3 loss at the Minnesota Wilderness. On Saturday, he made 40 saves in a 2-1 win. "Jake is a very good, young goalie that has continued to improve everyday. You need strong goaltending in a series against a team like the Wilderness to have any success, and that was exactly what we got from Jake all weekend. He made big saves in key situations that gave us a chance to win both nights. He was our best player all weekend," said Janesville head coach Joe Dibble.
2nd Star: Caleb Schroer, F, Coulee Region Chill
Honorable Mention (alphabetical): Hampus Eriksson, F, Fairbanks Ice Dogs – Kip Hoffman, F, Janesville Jets – Ryan Leibold, F, Springfield Jr. Blues – Benton Maass, D, Fairbanks Ice Dogs – Max Nylander, F, Springfield Jr. Blues – Jacob Schmidt-Svejstrup, F, Coulee Region Chill – Mitch Slattery, F, Minnesota Magicians
South Division Star of the Week: Chase Thudium, forward, Odessa Jackalopes
Odessa leading scorer Chase Thudium, 20, had a huge weekend as the Jackalopes completed a three-game home sweep of the Wichita Falls Wildcats. The 5'10/175 lbs. native of Sylvan Lake, Alberta, had 10 points (4 goals, 6 assists) in the three wins. On Thursday, Thudium had a hat-trick and an assist in a 6-5 win. The next night, he had three assists in a 4-3 overtime win. Thudium capped the weekend with a goal and two assists in an 8-6 win on Saturday. His 66 points in 57 games played leads the Jacks this season. "Chase had an outstanding weekend, scoring his first junior hat trick and helping us finish strong down the stretch," said Odessa head coach Greg Gatto.
2nd Star: Eric Cooley, F, Amarillo Bulls
Honorable Mention (alphabetical): Nikita Babintsev, G, Amarillo Bulls – Cam Burggrabe, G, Corpus Christi IceRays – Brendon Gysbers, D, Shreveport Mudbugs – Austin Kamer, F, Lone Star Brahmas – Kyle Kawamura, F, Shreveport Mudbugs – Nigel Nelson, F, Topeka RoadRunners – Ryan Orgel, D, Wichita Falls Wildcats – Max Prawdzik, G, Lone Star Brahmas – Nick Rosa, F, Wichita Falls Wildcats – Will Schlagenhauf, F, Topeka RoadRunners – Josh Tripp, F, Corpus Christi IceRays – Zach Zech, F, Odessa Jackalopes