March 31, 2017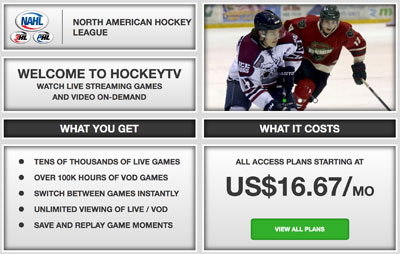 The second to last weekend of regular season games takes place this weekend in the North American Hockey League (NAHL).
13 of the 16 total playoff spots have been clinched and just three spots remain in the chase for the Robertson Cup. All four division winners have been decided as Minot has won the Central, Aston has won the East, Janesville has won the Midwest and Lone Star has won the South. With a .809 winning percentage, the Aston Rebels are just a few wins away from clinching the NAHL regular season title.
The final regular season game of the 2016-17 season takes place on Sunday, April 9th
The Central Division is once again providing teams and fans with some late season drama. Only Minot and the Minnesota Wilderness have clinched playoff spots and three teams (Aberdeen, Brookings and Bismarck) are in the chase for the final two spots. The big series this weekend features Bismarck at Brookings. With four games to go, the Bobcats are three points back of the 4th place Blizzard. The Wings hold a two point edge over the Blizzard for 3rd place and will face the Minnesota Magicians in an out-of-division series. Austin is in Minot for a pair of games and the Wilderness are hosting Janesville in an out-of-division series.
In the East, the Johnstown Tomahawks are at the Northeast Generals for two more games after securing the #2 seed in the East with a 4-3 win on Thursday night. The other series features the Aston Rebels and New Jersey Titans playing in a home-and-home series.
In the Midwest, there is one playoff spot left that very well could be decided this weekend as Springfield visits Coulee Region. The Chill are in the 4th and final spot and have a four point lead over the Jr. Blues entering the weekend and also have a game in hand. Fairbanks is hosting Kenai River for two more games on Friday and Saturday. The Ice Dogs moved into 2nd place in the Midwest with a 3-2 win on Thursday night over the Brown Bears.
In the South Division, the Shreveport Mudbugs look to lock up 2nd place in the division with a home series against 3rd place Corpus Christi. The IceRays will turnaround after the pair of weekend games in Shreveport and play Lone Star on Sunday. The Wichita Falls Wildcats are in Odessa for two more games, looking to gain ground on 3rd place Corpus Christi as the Wildcats are three points back. The Jackalopes took home a close 6-5 win on Thursday over the Wildcats. The series has Topeka in Amarillo.
Friday, March 31st
New Jersey at Aston - 7:00 PM EDT
Johnstown at Northeast - 7:00 PM EDT
Springfield at Coulee Region - 7:00 PM CDT
Topeka at Amarillo - 7:05 PM CDT
Bismarck at Brookings - 7:05 PM CDT
Janesville at MN Wilderness - 7:05 PM CDT
Wichita Falls at Odessa - 7:05 PM CDT
Corpus Christi at Shreveport - 7:11 PM CDT
Aberdeen at MN Magicians - 7:15 PM CDT
Austin at Minot - 7:35 PM CDT
Kenai River at Fairbanks - 7:30 PM AKDT
Saturday, April 1st
Johnstown at Northeast - 7:00 PM EDT
Aston at New Jersey - 7:30 PM EDT
Springfield at Coulee Region - 7:00 PM CDT
Topeka at Amarillo - 7:05 PM CDT
Bismarck at Brookings - 7:05 PM CDT
Aberdeen at MN Magicians - 7:05 PM CDT
Janesville at MN Wilderness - 7:05 PM CDT
Wichita Falls at Odessa - 7:05 PM CDT
Corpus Christi at Shreveport - 7:11 PM CDT
Austin at Minot - 7:35 PM CDT
Kenai River at Fairbanks - 7:30 PM AKDT
Sunday, April 2nd
Corpus Christi at Lone Star - 4:00 PM CDT