Jets beat Jr. Blues on Tuesday, 4-1
March 28, 2017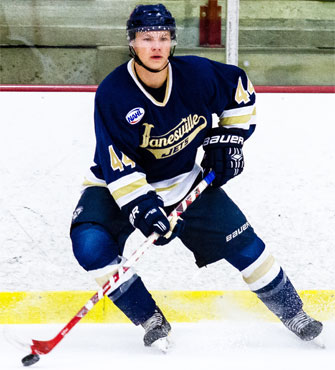 Janesville 4 @ Springfield 1 – Jacob Barczewski made 36 saves and Michael Maloney scored twice as the Jets picked up a 4-1 road win in Springfield on Tuesday night.
The Jets jumped out to a 3-0 lead in the 1st period, with the three goals coming in the last 5:15 of the period. Maloney scored his 23rd goal of the season to put the Jets ahead 1-0. Less than two minutes later, it was Alec Semandel scoring his 4th goal of the season to make it 2-0. With just :08 seconds remaining in the period it was Cole Paskus getting his 22nd goal of the season to make the score 3-0. That would end the night for Jr. Blue goalie Jordan Greenfield-Flemon, who stopped 9 of 12 shots.
In the 2nd period, the Jets pushed the lead to 4-0 with Maloney's second goal of the game and 24th of the season. Paskus picked up his second assist of the night to go along with his earlier goal, which completed a three-point night for Paskus.
Early in the 3rd period, the Jr. Blues spoiled Barczewski's shutout bid just :18 seconds into the frame as Fabio Hollenstein scored his 10th goal of the season.
The win was Janesville's 39th of the season, while the Jr. Blues stayed four points back of the final playoff spot in the Midwest with four games remaining.