NAHL Flow of the Month winner for January announced
February 2, 2017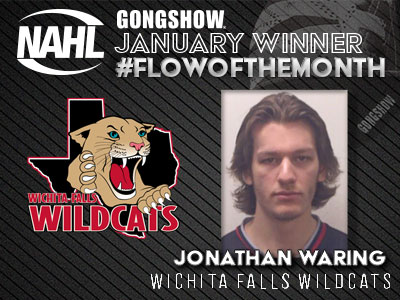 2017 begins with a whole new collection of flow.
By now, the season is five months in the books and played everywhere are letting their long locks linger.
With that said, the North American Hockey League (NAHL) announced its GONGSHOW Flow of the Month winner for January 2017.
The winner this month is defenseman Jonathan Waring of the Wichita Falls Wildcats.
Waring, 20, is in his final season of junior hockey and first season of playing in the NAHL.
The 6'2/200 lbs. native of Farmington Hills, Michigan, is having a great season with 21 points in 37 games played to date, which included five points during the month of January as the Wildcats moved themselves into 2nd place in the South Division.
Waring is not only a master of the blue line, where he has a respectable +9 rating this season, but he also is a veteran of the flow.
Sometimes, simple is best, and that's what Waring brings to the table in January. Just a mean, tough looking hockey player with what we call 'Probert hair.'
You see, back in the day Bob Probert was one of the toughest customers to ever lace up the skates. Do you think he cared about putting product or highlights in his hair? No way! He just let it grow and take its natural course. Whether he was scoring goals, delivering hits or getting in the occasional dust up, one of his signatures was a flow that would go anywhere it wanted to.
That's what we have here with Waring. Nice wave and length up top and a full-bodied mullet in the back. No tricks, no magic, just plain great hockey flow with a stare that could burn a hole through an opponent.
Congrats Jonathan… and for his effort, he will be receiving a GONGSHOW Gear hat.
For the sixth season in a row, GONGSHOW is the exclusive sponsor of the Flow of the Month promotion exclusively on the NAHL and GONGSHOW Twitter sites @NAHLHockey and @GONGSHOWGEAR.
Fans and players alike are encouraged to submit photos of their best 'hockey hair' or 'flow' via Twitter by the end of every month during the regular season.
To enter the contest for the month of 'Flowbruary,' submit your best #FlowoftheMonth pictures by February 28th to @NAHLHockey and @GONGSHOWGEAR. Two winners will be selected in the beginning of March. Winners will receive a GONGSHOW Gear hat.
GONGSHOW Gear Inc. (GONGSHOW) is the Official Lifestyle Hockey Apparel of the NAHL. GONGSHOW is also the sponsor of the NAHL TV platform on the NAHL website at NAHL.com. GONGSHOW is recognized as the hockey good industry's premier manufacturer of innovative, high quality, fashionable and trend setting clothing apparel for hockey athletes of all ages and abilities.