Watch: NAHL Now Alumni Series with Zach Nagelvoort
January 25, 2017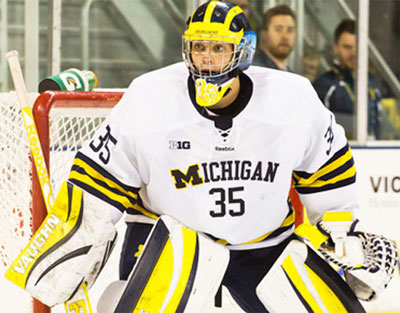 In a new video series for the 2016-17 season, the North American Hockey League (NAHL) is please to feature their extensive list of alumni in the NHL, NCAA and beyond in a new series entitled the NAHL Now: Alumni Series.
The NAHL Now: Alumni Series will be a regular video segment that highlights an alumni of the NAHL, who are currently playing in the NHL, NCAA or elsewhere as we try and catch up with their current situation, as well as, take a look back during their time playing in the NAHL.
We also try and get some feedback from coaches who constantly scout the league looking for players and who have made a lasting impact on the league
During a recent trip to the state of Michigan, the NAHL traveled to Ann Arbor, Michigan to catch up with the half a dozen alumni currently playing NCAA Division I hockey at the University of Michigan. One of those alumni is former NAHL and Aberdeen Wings goalie Zach Nagelvoort, who is in his senior season with the Wolverines.
"I learned a lot by playing in the NAHL, but the biggest thing I took from it was to focus on my own game and zone out the distractions. After I figured that out, it was nice to have some NCAA opportunities to choose from, but the University of Michigan had always been a dream of mine." -Zach Nagelvoort
Zach Nagelvoort's NAHL career spanned two full seasons with four different NAHL teams. The native of Holland, Michigan, spent time between the Kalamazoo Jr. K-Wings and the Traverse City North Stars during the 2011-12 NAHL regular season.
The next season saw Nagelvoort play with the Soo Eagles and ultimately settling with the Aberdeen Wings, where he thrived and made his NCAA Division I commitment to Michigan in the Spring of 2013.
During the 2012-13 season, he was named the NAHL Goaltender of the Month in March of 2013 and finished 3rd in the NAHL in both goals against average (2.10) and save percentage (93.6%) that season.
Highlights with the University of Michigan
Senior (2016-17)
• Recorded seven saves on seven shots in exhibition vs. Windsor and also notched an assist (10/2)
• Saved 36 shots in season-opener vs. Union (10/7)
• Stopped 31 shots in win at Arizona State (11/4)
• Recorded 22 saves on 23 shots in win vs. Lake Superior State (11/26)
• Stopped 25 shots in loss at Penn State (12/1)
• Stopped all 13 shots he faced in relief vs. Wisconsin (12/9)
• Saved 40 shots in a 5-4 OT win vs. Michigan State in GLI (12/30)
• Saved 25 shots in a shootout win at Michigan State (1/21)
Junior (2015-16)
• Nagelvoort saw action in 11 contests in 2015-16, notching a 5-2-1 record with a 2.99 GAA and .893 save percentage
• Stopped all 30 shots in in relief of Steve Racine in tie vs. Dartmouth (11/28)
• Made 20 saves in win vs. Wisconsin (12/4)
• Made 22 saves in win vs. Minnesota (12/11)
Sophomore (2014-15)
• Finished season with 11-9-0 record in 22 games, notching a 2.63 GAA and .906 save percentage with one shutout
• In conference play, went 7-4-0, with a 2.35 GAA and .916 save percentage
• Made 41 saves to earn win in net against Penn State on 11/22
• Made 24 saves in combined shutout with Luke Dwyer on 11/29 vs. RPI, adding first career point (a)
• Notched second career assist and made 24 saves at BC on 12/13
• Stopped all 17 shots for his second career shutout at Wisconsin (1/24)
Freshman (2013-14)
• In 24 games, went 11-9-3 with a 2.20 GAA (15th, NCAA) and a .929 save percentage (6th, NCAA)
• Save percentage was second to Shawn Hunwick's .932 mark in 2011-12 on the school single-season record list
• Named Big Ten First Star (11/26 and 12/17), Big Ten Second Star (11/5) and Big Ten Third Star (10/27)
• Earned Deker Club Rookie of the Year honors
• Made his Michigan debut in net on 10/18 at UNH, entering the game at 1:41 of the third period
• Stopped all 15 shots faced, including a penalty shot in his first game action
• Recorded his first career win in his first start on 10/19 at UNH, stopping 22 of 24 shots to earn the victory
• Stopped all 36 shots faced in his career-first shutout vs. Niagara on 11/22
• Set a new school single-game record with 63 saves vs. Penn State in the first round of the Big Ten tournament on 3/20, breaking Robbie Moore's previous record of 61 saves set on Feb. 17, 1973
• Recipient of the Donald C. and Ingrid A. Graham Hockey Scholarship