Ice Dogs snap skid with 4-1 win over Generals on Thursday
January 20, 2017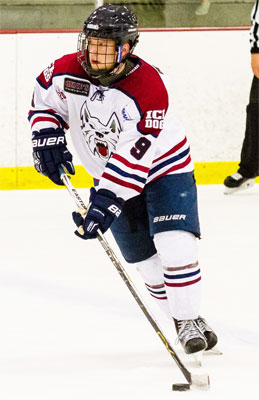 Northeast 1 @ Fairbanks 4 - Daniel Haider was in street clothes the last time the Fairbanks Ice Dogs played in their home rink, the Big Dipper Ice Arena. On Thursday night, the Ice Dogs and their fans were happy to see the Anchorage native suited up on home ice for the first time in three months.
Haider showed, too, that he was happy to be back on home ice, He scored twice in the second period of a 4-1 victory over the expansion Northeast Generals, of Attleboro, Massachusetts and the NAHL's East Division.
Grayson Gavin and Robert Blueger added third-period power-play goals and Josh Benson made 12 saves for Fairbanks, which raised its fifth-place record in the Midwest Division to 12-21-2-1 for 27 points in the standings. The Ice Dogs also ended a six-game losing streak and improved to 4-0-0-0 this season against Generals.
Though the Generals are 1-31-3-0 for five points in the East standings, they didn't hold back against the Ice Dogs in the opener of the three-game series. Northeast, particularly in a scoreless first period, often blocked shooting and passing lanes for Fairbanks.
The Ice Dogs adjusted on the way to a 52-12 advantage in shots.
Haider provided the series' first goal at 8:25 of the second period during a power play. With help from Samuel Ruffin and fellow Anchorage native Cayden Cahill, Haider fired a shot from just inside the right circle and the puck bounced in off the pads of Northeast goaltender Gabe Vinal (48 saves).
Generals defenseman Jake Hartje evened the score at 11:14, taking a rebound of Kevin Perry's shot and sending it from the slot over Benson's glove-side shoulder. Matt Wiesner also assisted.
Haider delivered the game-winner at 14:39 of the second, faking a pass on a 2-on-1 rush and lining the shot between Vinal's pads. Defenseman Nolan Schaeffer and Cahill had the assists.
Gavin added insurance at 8:32 of the third with a rebound of newcomer defenseman Kyle Mayhew's power-play attempt at the left edge of the crease.
The Ice Dogs gained a four-minute power play and Blueger capitalized with a goal at 17:37, aided by defenseman Marc Sullivan and forward Hampus Eriksson (story by Danny Martin, News-Miner).