Titans edge Knights on Wednesday, 5-4
January 19, 2017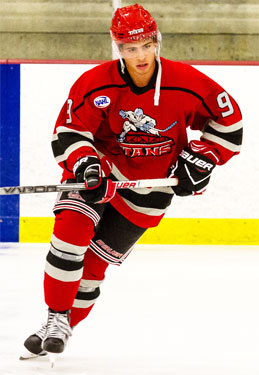 Wilkes-Barre/Scranton 4 @ New Jersey 5 – The Titans used a balanced scoring attack and three points from Tiernan Seningen to edge out to visiting Knights in the lone NAHL game on Wednesday by a score of 5-4. The win was New Jersey's 3rd in a row and moved the team into sole possession of 2nd place in the East Division.
New Jersey jumped ahead with two 1st period goals from Seningen and Anthony Cusanelli to make the score 2-0.
The 2nd period was the most active offensively as the Titans scored two more times only to see the Knights make a game of it with three goals of their own. The Knights got goals from Curtis Carlson, Sam Antonitsch and Jimmy Elser, while the Titans got goals from Jordan Kaplan and Maxim Andreev.
Early in the 3rd period, the Knights tied the game at 4-4 as Elser scored his second of the night just :36 seconds into the final period. With less than six minutes remaining, the Titans netted the game-winner thanks to a goal from Ryan Wheeler.
New Jersey goalie Brandon Perrone made 33 saves in the win, while Knights goalie Matteo Esposito made 30 saves in the loss.