NAHL announces Bauer Divisional Stars of the Week
January 16, 2017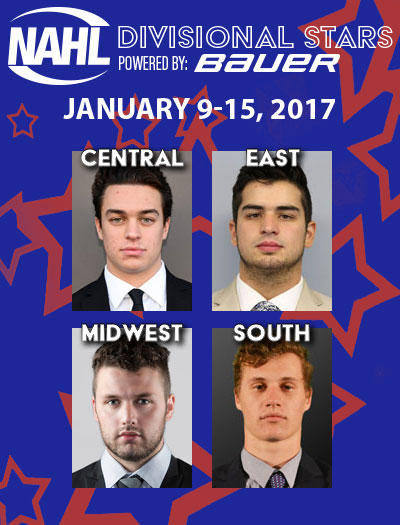 The North American Hockey League (NAHL) today announced the Divisional Stars of the Week presented by Bauer Hockey for the week ending January 15, 2017. The Bauer Hockey Divisional Stars of the Week is a weekly feature during the 2016-17 regular season that honors the top performing players in each of the four NAHL divisions. Only players that are nominated by their respective teams are considered for the Divisional Players of the Week award.
Central Division Star of the Week: Michael Zuffante, forward, Minnesota Wilderness
The Minnesota Wilderness moved into 2nd place in the Central Division thanks to taking three of four points in their road series in Aberdeen over the weekend. Forward and leading scorer Michael Zuffante, 18, had a good weekend for his team as he produced four points (all assists) and a +3 rating in the two games. On Friday, the native of Bloomingdale, Illinois, assisted on all three Minnesota goals in a 3-1 win. On Saturday, he picked up another assist in a 4-3 shootout loss. In 32 games played this season, Zuffante (5'9/175) leads the Wilderness with 32 points. "Mike certainly rose to the occasion this weekend against a very good Aberdeen team. He produced offensively, but more importantly, he played responsible, two-way hockey," said Wilderness head coach Tim Madsen.
2nd Star: Severi Isokangas, G, Bismarck Bobcats
Honorable Mention (alphabetical): Andy Carroll, D, Aberdeen Wings - Jesse Farabee, F, Minnesota Wilderness – Tyler Jeanson, F, Minot Minotauros – Gage Mackie, F, Aberdeen Wings – Matej Murin, F, Bismarck Bobcats – Austin Park, G, Minot Minotauros
East Division Star of the Week: Joe Schuler, forward, Wilkes-Barre/Scranton Knights
Wilkes-Barre/Scranton forward Joe Schuler, 20, led his team to a weekend home sweep of the Fairbanks Ice Dogs, which pushed the Knights winning streak to four straight games and moved the team over the .500 mark. The native of Webster, New York, had four points (2 goals, 2 assists) and was a +4 in the two wins. In each of the wins on Friday and Saturday, Schuler (5'9/170) had a goal and an assist in both games. In 22 games played, Schuler has eight points this season with half of those coming in the latest series against Fairbanks. "Joe has been one of our most consistent players since the holiday break. He a big reason we have won six out of seven games we have played since Christmas. Joe plays with confidence and has really solidified his spot in the line up as one of our top forwards. His hard work and his veteran experience on the ice will play a big part in our team success throughout the rest of our season," said Knights head coach Tom Kowal.
2nd Star: Drew Blackmun, F, Aston Rebels
Honorable Mention (alphabetical): Gvido Jansons, D, Aston Rebels – Vince Marino, F, Wilkes-Barre/Scranton Knights
Midwest Division Star of the Week: Cullen Munson, forward, Janesville Jets
Thanks to a weekend sweep in Brookings against the Blizzard and a road win earlier in the week against Coulee Region, the 1st place Janesville Jets extending their winning streak to five straight games and widened their lead in the Midwest Division. Second-year forward Cullen Munson had his best week of his season as the native of Edina, Minnesota, had nine points (5 goals, 4 assists) and a +5 rating in the three wins. On Thursday, the 20-year-old had two goals and an assist in a 6-2 win in Coulee Region. On Friday, Munson (5'11/180) had a goal and an assist in a 4-3 win in Brookings and on Saturday, he had two goals and two assists in a 7-3 win against the Blizzard. In 33 games played this season, Munson has 38 points. "Cullen has been a key piece to our team this season. He has a non-stop work ethic in all three zones that has been contagious to our room. He is going to play just as hard without the puck as he does with the puck. That, his skill, and his ability to create offense, is what has made him such a threat this year. Someone at the NCAA Division I level is going to get a great addition on and off the ice to their program," said Jets head coach Joe Dibble.
2nd Star: Steven Quagliata, D, Coulee Region Chill
Honorable Mention (alphabetical): Peter Bates, F, Janesville Jets – Connor Chilton, F, Fairbanks Ice Dogs – Billy Duma, F, Coulee Region Chill – Ivan Prosvetov, G, Minnesota Magicians – Tanner Tweten, F, Minnesota Magicians
South Division Star of the Week: Kieran Durgan, forward, Shreveport Mudbugs
The Shreveport Mudbugs continued their climb up the South Division standings thanks to a three-game weekend home sweep of Topeka, which ran their winning streak to six straight games. 19-year-old forward Kieran Durgan (6'1/190) had a big weekend as the native of St. John's, Michigan, rattled off six points (2 goals, 4 assists) in the three wins. Durgan recorded at least a point in all three wins, which included a goal in Thursday's 3-1 win. It also included two assists in Friday's 3-1 win and a goal and two assists in Saturday's 7-2 win. For the season, Durgan has 28 points in 34 games played. "Kieran has been a very reliable three zone player for us all season. He has also brought experience, presence and great leadership to our dressing room. He continues to work for his offense and it is nice to see him get rewarded," said Mudbugs head coach Karlis Zirnis.
2nd Star: Austin O'Rourke, F, Lone Star Brahmas
Honorable Mention (alphabetical): Brandon Bussi, G, Amarillo Bulls – Ben Churchfield, G, Topeka RoadRunners – Jonny Hogue, G, Odessa Jackalopes – Larry Jungwirth, F, Corpus Christi IceRays – Griffin Loughran, F, Corpus Christi IceRays – John Roberts, G, Shreveport Mudbugs – Will Schlagenhauf, F, Topeka RoadRunners – Brendan Walkom, F, Amarillo Bulls – Nick Wilson, D, Odessa Jackalopes