Jackalopes, Minotauros win on Thursday night
December 1, 2016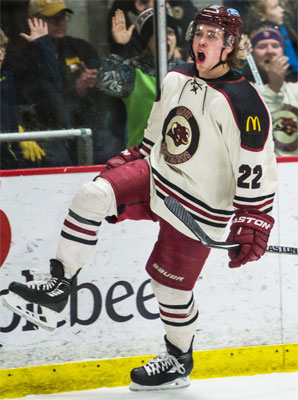 Lone Star 3 @ Odessa 6
– The Odessa Jackalopes scored twice in each period to defeat the visiting Brahmas on Thursday by a score of 6-3. The loss snapped a three-game losing streak for the Jacks as they moved into 6th place in the South. Odessa got 1st period goals from Chris Donaldson and Noah Poindexter. In the 2nd period, Donaldson added his second goal of the game and the Jacks got their 4th goal from Tyler Pietrowski. Zach Zech and Pietrowski added empty-net goals in the 3rd period to secure the win after the Brahmas had closed the gap to 4-3. Lone Star goals came from Pete Kessel in the 2nd period and Simon Loof and John Zimmerman in the 3rd period. Jon Flakne made 47 saves in the win.
Boxscore
Brookings 1 @ Minot 3
– Lucas Murray made 22 saves to help the Minot Minotauros to a 3-1 home win over the Brookings Blizzard on Thursday. Minot got things started late in the 1st period with a power play goal from Tyler Jeanson and another goal from Austin Dollimer with just : 33 seconds remaining in the opening frame to make it 2-0. Minot pushed the lead to 3-0 with a goal midway through the 2nd period from Derek Frentz. Brookings lone goal of the game came later in the 3rd period off the stick of Cade Borchardt, who scored his 12th goal of the season. Nick Althaus made 29 saves in the loss.
Boxscore