October 28, 2016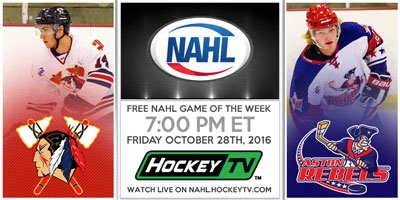 It is a packed weekend in the NAHL as most of the teams will be in action as 11 games take place on Friday and night and another 10 games take place on Saturday.
It is a big divisional rivalry weekend as all the games feature competition within the four divisions. All four divisions are tight in the standings, both for the top spot and those trying to get themselves in playoff position.
In the Central Division, all six teams are in action as division-leading Minot is in Austin for a pair of games. The Bismarck Bobcats put their three-game winning streak on the line with a pair of games in Aberdeen and the Minnesota Wilderness pay a visit to Brookings for two games against the Blizzard.
In the East Division, the big match-up of the weekend is a battle of the teams with the two best records in the league as Johnstown travels to Aston for a pair of games. The Wilkes-Barre/Scranton Knights are at the Northeast Generals for one more game on Friday afternoon. The Knights edged out a 3-2 win on Thursday. The New Jersey Titans are idle this weekend.
In the Midwest, the two Alaska teams travel East as Fairbanks is in Coulee Region for a pair of games, while the Kenai River Brown Bears are in Minnesota to face the Magicians. The final series in the Midwest is the division-leading Janesville Jets on the road in Springfield to face the Jr. Blues for two games.
Finally in the South, Shreveport is in Corpus Christi for two more games this weekend to finish off a three-game set. The IceRays shutout the Mudbugs on Thursday, 3-0. The division-leading Lone Star Brahmas, winners of their last six straight, are in Odessa for two more games after posting a 4-1 win on Thursday night. The final series sees Wichita Falls traveling to Amarillo for a pair of games against the Bulls. Topeka is idle this weekend.
Friday, October 28th
Wilkes-Barre/Scranton at Northeast - 1:00 PM EDT
Johnstown at Aston - 7:00 PM EDT
Fairbanks at Coulee Region - 7:00 PM CDT
Wichita Falls at Amarillo - 7:05 PM CDT
Minot at Austin - 7:05 PM CDT
MN Wilderness at Brookings - 7:05 PM CDT
Shreveport at Corpus Christi - 7:05 PM CDT
Lone Star at Odessa - 7:05 PM CDT
Janesville at Springfield - 7:05 PM CDT
Bismarck at Aberdeen - 7:15 PM CDT
Kenai River at MN Magicians - 7:15 PM CDT
Saturday, October 29th
Johnstown at Aston - 7:00 PM EDT
Janesville at Springfield - 6:05 PM CDT
Fairbanks at Coulee Region - 7:00 PM CDT
Wichita Falls at Amarillo - 7:05 PM CDT
Minot at Austin - 7:05 PM CDT
MN Wilderness at Brookings - 7:05 PM CDT
Shreveport at Corpus Christi - 7:05 PM CDT
Kenai River at MN Magicians - 7:05 PM CDT
Lone Star at Odessa - 7:05 PM CDT
Bismarck at Aberdeen - 7:15 PM CDT