October 26, 2016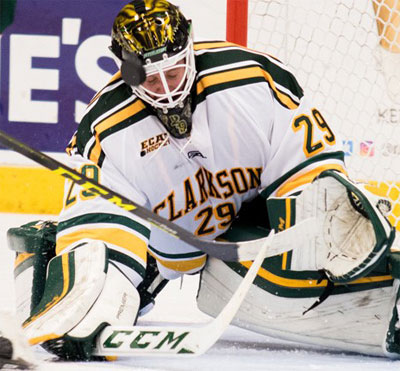 It was another big week for NAHL alumni, particularly in the NCAA Division I ranks, as six different players were honored by their respective conferences.
Have an interesting or notable NAHL alumni story to share? Please send us an
email
.
Atlantic Hockey Defensive Player of the Week: Tyler Hayes, Niagara (Topeka RoadRunners, 2014-16)
Tyler Hayes had a tremendous week for Niagara as the Purple Eagles played three road games in five days. In addition to scoring two assists, Hayes tied for second in the NCAA last week with 9 blocked shots, along with an even rating in three games played. Hayes' best game of the week came in a 3-3 Niagara tie on Oct. 21 at RPI, as he scored his first two collegiate points with a pair of power-play assists, adding a plus-1 rating and tying a game-high with four blocked shots. Hayes also logged significant minutes for a Niagara penalty kill that posted a stellar 95-percent efficiency (19-for-20) in three games last week.
Atlantic Hockey Goalie of the Week: Charles Williams, Canisius (Owatonna Express, 2010-11)
Senior netminder Charles Williams made 27 stops to earn the 6-3 victory in net for the Blue and Gold Friday night, his second win of the season. He then stopped 32 shots, including 19 in the third period, in 2-2 tie Saturday night, moving his record to 2-1-1 on the year. The weekend series marked the first time the Griffs have gone without a loss against Robert Morris in a two game set in program history.
Atlantic Hockey Rookie of the Week: Derek Brown, Niagara (Odessa Jackalopes, 2013-16)
Derek Brown tied for the scoring lead in Atlantic Hockey last week, leading the Purple Eagles with three points in three games played. The Peoria, Arizona native scored a pair of goals and an assist, his first three collegiate points. Brown scored his first goal at Mercyhurst on Oct. 18, burying a rebound late in the third period. At Union on Oct. 22, Brown added a goal and an assist, the third time a Purple Eagle freshman recorded multiple points in a game this season.
ECAC Goaltender of the Week: Jake Kielly, Clarkson (Austin Bruins, 2014-15)
After backstopping the Clarkson University Hockey team to a tie and a win on the road against two Top-15 ranked teams, Jake Kielly has been named ECAC Hockey Goaltender of the Week. The freshman posted a career-high 43 saves, including 20 in the third period in the 3-3 draw at #15 Providence on Friday and did not allow the Friars to score an even-strength goal. Kielly followed with 28 saves in the 4-3 come-from-behind win at #5 UMass-Lowell, including 14 in the first period to keep the Knights in the game. The Eden Prairie, MN native allowed just two even-strength goals on the weekend. Kielly, who has started all six games, holds a .909 save percentage and a 2.81 GAA.
Hockey East Defensive Player of the Week: Stefanos Lekkas, Vermont (Springfield Jr. Blues, 2012-14)
Stefanos Lekkas (Fr., G; Elburn, Ill.) Posted a 1.99 goals against average and a .930 save percentage in his first two NCAA appearances at No. 20 Omaha, including 32 stops in his debut start as a Catamount and all 21 shots he faced in relief on Saturday in 56 minutes of play.
WCHA Rookie of the Week: Nicholas Rivera, Minnesota State (Wenatchee Wild, 2013-14)
Rivera tied for the NCAA lead among freshmen with four points, scoring a pair of goals with two assists as No. 9 Minnesota State split a series at Alaska. The rookie from Pacific Palisades, Calif. scored his first two collegiate goals – including the game-winner – while also handing out an assist in the Mavericks' 7-1, series-opening win Friday night. On Saturday, he was credited with a helper on a late second-period goal that brought Minnesota State within 3-2 (UAF eventually won, 4-2).
SPHL Player of the Week: Lou Educate, Huntsville (Chicago/Port Huron/Aberdeen, 2010-11)
The Southern Professional Hockey League (SPHL) today announced Lou Educate of the Huntsville Havoc is the Bauer Player of the Week for October 21-23. Educate kicked off the 2016-2017 season by scoring five goals, including the season's first hat trick, and was +3 in leading Huntsville to a pair of road wins over last season's regular season champions, the Peoria Rivermen. On Friday, the Libertyville, IL native scored a pair of second-period goals in helping the Havoc to a 5-1 over the Rivermen. Educate came back on Saturday with his first professional hat trick, including two on the power play, leading Huntsville to a 6-1 win over Peoria.
Former NAHL goalie Troy Redmann (Texas, Soo, Bozeman, 2003-06) signed a professional tryout agreement with the AHL's Ontario Reign. Redmann, 30, skated in four games with the ECHL Ontario Reign from 2012-14 and spent last season with the Alaska Aces (ECHL). In 41 games with the Aces, the Brea, California, native went 15-20-4 with a 2.74 goals-against average and .906 save percentage.