Rebels blank Generals on Monday, 3-0
October 10, 2016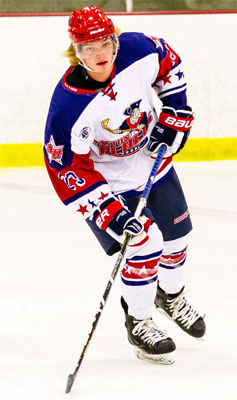 Northeast 0 @ Aston 3 – The Rebels rounded out a perfect weekend with a 3-0 shutout against East Division opponent, the Northeast Generals, in an afternoon game on Monday. The win gives Aston sole possession of first place in the East Division standings, with a league-leading total of 20 points.
Rebels' standout Andrew Bellant continued to find the back of the net against the Generals, scoring two goals throughout the game. Teammate Evgeny Yakolev netted the third goal for the Aston, helping the Rebels secure the shutout victory.
The offensive efforts of the Rebels were fueled by their power play performance, finding success in 2/6 opportunities when having the man-up advantage.
Aston's Mareks Mitens secured his second weekend win with 15 saves for the Rebels, while Northeast's Gabe Vinal was given the loss, despite 42 saves.