New NAHL App now available
October 10, 2016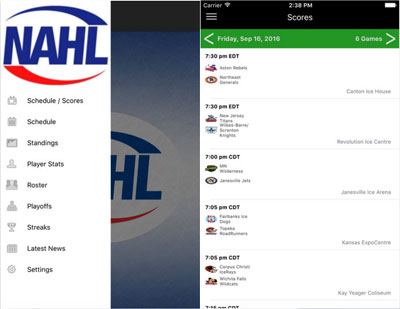 The North American Hockey League (NAHL) is pleased to announce the launch of the new NAHL mobile-based app. HockeyTech, the official technology and digital services partner of the NAHL, developed the most recent version of the NAHL app. The app is current available for free download at both the iOS App Store and on Google Play.
With the integration of our statistics platform over to HockeyTech earlier this year, the new NAHL app is now fully integrated with all of the latest scores, schedules and statistics. We know that time is valuable for all of our fans, which is why the NAHL app comes in very handy, said Alex Kyrias, Director of Sales and Marketing for the NAHL.
The official NAHL app gives hockey fans, players, parents, teams, family and scouts immediate access to the entire NAHL schedule, scores, standings, information, videos and more.
NAHL App features include:
With this expanded relationship, the NAHL and its affiliated leagues (NAPHL and NA3HL) are utilizing HockeyTech's best-in-industry software and data services for live scoring, statistics, websites, mobile apps, player scouting, player management, player testing, video services, and game streaming. HockeyTech is a worldwide leader in providing hockey-related technologies, analytics and information services. HockeyTech brands include RinkNet, ISS Hockey, FASTHockey, LeagueStat, and NEXT Testing.