Rebels handle Generals on Sunday, 5-1
October 10, 2016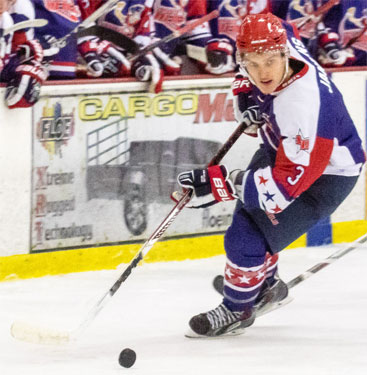 Northeast 1 @ Aston 5 – The Aston Rebels collected their ninth win of the 2016-17 season in a Sunday matinee against the Northeast Generals. With the victory, Aston sits just one point out of the top spot in the East Division standings, and is tied for the most wins in the league with 9.
Three goals in a row got the game started for Aston, who held the only scoring plays in both the first and second period. Gvido Jansons opened up the scoring, with his first period goal that game at the 12:20 minute mark. Just 19 second later, teammate Pete Zhong would find the back of the net to give the Rebels a 2-0 lead. In the second, Dustin Manz would add an additional goal to make the game 3-0 Aston through 40 minutes of play.
Northeast's Artsiom Anosau would look to fire up the Generals in the third period, grabbing a goal at the 5:04 mark. Soon after, Aston opened the wound back up with back-to-back goals from Michael Underwood and Aaron Maguyon to build on the Rebels' lead. Aston would hold the 5-1 score steady to collect their victory.
Rebels' goaltender Mareks Mitens took his fifth win of the season, making 15 saves through the game. The Generals' David Fessenden was given the loss, despite 34 saves in net.
The teams will faceoff again just short of a full day later at 2pm in the Ice Works Skating Complex. The game can be followed live on
FASTHockey.com
, or via
LeagueStat
.