NAHL announces Bauer Divisional Stars of the Week
October 3, 2016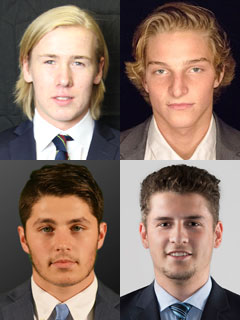 The North American Hockey League (NAHL) today announced the Divisional Stars of the Week presented by Bauer Hockey for the week ending October 2, 2016. The Bauer Hockey Divisional Stars of the Week is a weekly feature during the 2016-17 regular season that honors the top performing players in each of the four NAHL divisions. Only players that are nominated by their respective teams are considered for the Divisional Players of the Week award.
Central Division Star of the Week: Tobias Fladeby, forward, Bismarck Bobcats
Fladeby, 20, had a big weekend to help his Bobcats pick up a weekend home sweep of the Austin Bruins. The 6'0/182 lbs. native of Asker, Norway, had four goals and an assist in the two wins, which included two goals each night including the game-winner in Saturday's 4-3 win. Fladeby has 11 points in 7 games played so far this season. "As our top returning scorer from last season and given the talent he displayed as a rookie, we knew we could count on Tobias to produce early this year. We needed to have a big weekend with Austin in town and Tobias was one of the guys who stepped up and played well," said Bismarck head coach Layne Sedevie.
2nd Star: Parker Mismash, F, Bismarck Bobcats
Honorable Mention (alphabetical): Alex Adams, F, Minot Minotauros – Eric Dop, G, Minot Minotauros
East Division Star of the Week: Andrew Bellant, forward Aston Rebels
It was a huge weekend for Aston forward Andrew Bellant, 19, as he exploded for nine point in two home wins over the Northeast Generals. The 5'9/165 lbs. native of Linden, MI, had two goals in each game and also racked up five assists. On Friday night, one of his goals was the game-winner and he also was a +5 on the weekend. In 8 games this season, Bellant has 11 points. "This is well deserved for Andrew this week. He has played very well since his return to the team. He is highly intense player with a good skill and terrific speed. We expect him to lead us both on and off the ice. Some NCAA Division I program will be happy to get this young man," said Aston head coach Joe Coombs.
2nd Star: Drew Hotte, G, Johnstown Tomahawks
Honorable Mention (alphabetical): Mareks Mitens, G, Aston Rebels – Samuel Solensky, F, Johnstown Tomahawks
Midwest Division Star of the Week: Adrian Holesinsky, forward, Janesville Jets
It was a big weekend for the Janesville Jets as they stayed in 1st place with a home sweep of the Brookings Blizzard. Veteran forward Adrian Holesinsky, 20, had four points in the weekend sweep to pace the Jets. On Friday, the 6'0/180 lbs. native of Cadca, Slovakia, had two goals in a 6-3 win and on Saturday, he had two assists in a 7-2 win. For the season, Holesinsky is tied for 2nd in team scoring with 8 points. "Adrian made plays for us in key moments of each game this past weekend but more importantly, it was his play away from the puck that we as a staff were most pleased with. He is focused on being a complete 200-foot hockey player that is also an offensive threat and he took major strides this weekend towards that," said Jets head coach Joe Dibble.
2nd Star: Kevin Dineen, F, Coulee Region Chill
Honorable Mention (alphabetical): Evan Fear, G, Springfield Jr. Blues – Matt Long, F, Springfield Jr. Blues – Aaron McPheters, D, Fairbanks Ice Dogs - Marshall Plunkett, D, Coulee Region Chill – Tanner Schachle, F, Fairbanks Ice Dogs – Derek Schaedig, G, Janesville Jets
South Division Star of the Week: Frankie Melton, forward, Shreveport Mudbugs
Shreveport Mudbugs forward Frankie Melton, 19, had an explosive home debut for the Mudbugs as the 5'8/170 lbs. native of St. Louis, MO, totaled four points in two games as the Mudbugs took three of four points in their series against the Lone Star Brahmas. Melton had three goals and an assist in the two games, which included two goals in Friday's 5-4 shootout loss. Melton leads the Mudbugs in scoring so far this season with 10 points in 6 games played. "Frankie is a very talented player who has worked very hard to accomplish his position on the team. His success comes from his high level of competitiveness and his perseverance," said Mudbugs head coach Karlis Zirnis.
2nd Star: Jeff Solow, D, Amarillo Bulls
Honorable Mention (alphabetical): Seamus Donohue, D, Wichita Falls Wildcats – Peter Kessel, F, Lone Star Brahmas – George Mika, F, Amarillo Bulls – John Roberts, G, Shreveport Mudbugs – Ilya Skvortsov, F, Wichita Falls Wildcats