Mudbugs beat Brahmas 4-2 in NAHL home debut
September 30, 2016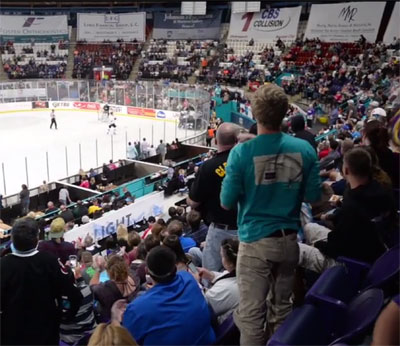 Lone Star 2 @ Shreveport 4 – The Shreveport Mudbugs had an impressive NAHL home debut on Thursday night as they defeated the visiting Lone Star Brahmas, 4-2 in front of a packed house of 3,434 fans at George's Pond at Hirsch Coliseum. The Mudbugs moved to (3-2-0) on the season and handed the Brahmas (4-1-1) their first regulation loss.
After a scoreless 1st period, the Mudbugs got on the board early in the 2nd period as Kieran Durgan made the crowd come alive with a great end-to-end goal, going through four Brahmas players to score the first home goal in the Mudbugs NAHL history. 10 minutes later, Frankie Melton scored his 5th goal of the year as he potted home a rebound to make the score 2-0. Two minutes later, Garrett Hallford scored his first goal of the season to send the Mudbugs into the lockerroom at the 2nd intermission leading, 3-0.
In the 3rd period, the Brahmas showed some life with a goal from Levi Wunder, but Shreveport regained the momentum right back with a goal from Kristaps Jakobsons. Blake Evennou added a late for Lone Star to make the final score, 4-2.
Mudbugs goalie John Roberts picked up the win, making 28 saves, while Conor O'Brien made 19 saves in the loss.
"It was great," Shreveport head coach Karlis Zirnis to the Shreveport Times. "We were ready, but maybe a little over excited due to the anticipation early. We settled down, we stuck to our structure and took care of business.''