NAHL announces Bauer Divisional Stars of the Week
September 19, 2016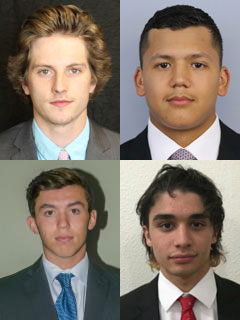 The North American Hockey League (NAHL) today announced the Divisional Stars of the Week presented by Bauer Hockey for the week ending September 18, 2016. The Easton Hockey Divisional Stars of the Week is a weekly feature during the 2016-17 regular season that honors the top performing players in each of the four NAHL divisions. Only players that are nominated by their respective teams are considered for the Divisional Players of the Week award.
Central Division Star of the Week: Jordan Fralich, defenseman, Bismarck Bobacts
The Bismarck Bobcats made a strong opening statement this past weekend, winning their lone game of the weekend, a 7-2 home win over Aberdeen in their season debut on Saturday night. Defenseman Jordan Fralich, 19, picked up three assists in the opening night win. The 5'10/185 lbs. native of Cottan, MN, played in 31 games for the Bobcats last season and recorded nine points. "Coming into a season with so many new faces and younger guys, we knew we would have to rely on our veterans to step up early, and Jordan is one of our returners who did just that on Saturday. With his puck possession and vision, we expect him to continue to be productive all season long," said Bobcats head coach Layne Sedevie.
2nd Star: Tobias Fladeby, F, Bismarck Bobcats
Honorable Mention (alphabetical): Carson Dimoff, F, Aberdeen Wings – Nick Olyczyk, F, Minnesota Wilderness
East Division Star of the Week: Andrew Jackson, forward, Wilkes-Barre/Scranton Knights
The Wilkes-Barre/Scranton Knight picked up their first win of the 2016-17 season this past weekend with a split against New Jersey. Forward Andrew Jackson, 18, had a big game on Saturday as the Knights beat the Titans 4-3 in overtime. The 6'2/195 lbs. native of Rochester, MI, had a hat-trick in the win, including the game-winner in overtime as he followed up his own rebound. "Andrew is a veteran member of our program. He stepped up in a big way for us in a big game. At the end of the day, it's great to see his hard work pay off. He got his first three NAHL goals and it helped us get our first win of the season," said Knights head coach Tom Kowal.
2nd Star: Colt Hanks, G, Wilkes-Barre/Scranton Knights
Honorable Mention (alphabetical): None
Midwest Division Star of the Week: CJ Boothe, goaltender, Fairbanks Ice Dogs
The Fairbanks Ice Dogs picked up right where they left off in May when they were winning a Robertson Cup as they traveled to Topeka for a three-game set with the RoadRunners this past weekend. Fairbanks emerged three wins in the series and returning goalie CJ Boothe, 18, got the win in goal on Thursday and Friday. The 5'10/155 lbs. native of Delray Beach, FL, stopped 46 of 48 shots that came his way in the two games to lead the Ice Dogs to victory. "CJ had a strong start to the season and his great play was critical in Thursday's contest when he had a stale team playing in front of him," said Ice Dogs head coach Trevor Stewart.
2nd Star: Brendan Skarda, F, Minnesota Magicians
Honorable Mention (alphabetical): Devin Cooley, G, Springfield Jr. Blues – Hampus Eriksson, F, Fairbanks Ice Dogs – Keegan Miller, F, Janesville Jets – Derek Schaedig, G, Janesville Jets – Christian Simeone, F, Springfield Jr. Blues
South Division Star of the Week: Ryan Burnett, forward, Wichita Falls Wildcats
Wichita Falls Wildcats forward Ryan Burnett, 19, had a big weekend as the Wildcats took five of a possible six points in a home series against the Corpus Christi IceRays. The 5'10/175 lbs. native of Brighton, MI, had seven points in the three games, which included four goals and three assists. His seven points and four goals currently leads all NAHL scorers as Wichita Falls is off to a 2-0-2 start in their first four games. "Ryan has a lot of speed and he gets in the dirty areas and has been rewarded for it. He has done a good job of getting himself into scoring position and understanding little things it is going to take to try and get to the NCAA Division I level. He is providing us with important leadership on a very young team," said Wildcats head coach Tony Curtale.
2nd Star: Drake Glover, F, Lone Star Brahmas
Honorable Mention (alphabetical): Cody Fleckenstein, D, Corpus Christi IceRays – Aleksi Poikola, F, Wichita Falls Wildcats – David Thompson, F, Corpus Christi IceRays – Alec Truscott, F, Amarillo Bulls - Troy York, F, Lone Star Brahmas