24 in 24 Series: Odessa Jackalopes
September 3, 2016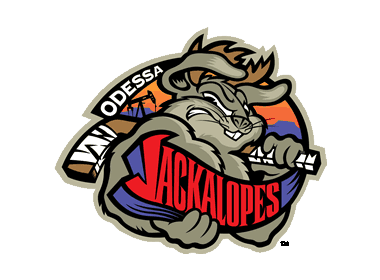 The 24 in 24 series features a look at all 24 teams in the NAHL for the 2016-17 season, with a new team being highlighted daily, leading all the way up until the start of the regular season. 24 in 24 looks into each NAHL team and will include video interviews with all 24 head coaches in the NAHL, as they provide fans with their expectations and outlook for the season, including taking a look at their strengths as a team and thoughts on the league. It will also take a look back on last season and how each team fared and what they accomplished.
Odessa Jackalopes
Head Coach: Greg Gatto (4th year)
2015-16 record: 27-29-4, 58 pts. (4th in the South Division)
2015-16 leading scorer: Hampus Sjodahl (69 points)
2016 Playoffs: Lost in the South Division Semi-Finals to Wichita Falls, 3-0
2016-17 Division: South
First regular season game: Saturday, September 10th @ Amarillo Bulls
Home opener: Thursday, October 27th vs. Lone Star Brahmas
The Odessa Jackalopes took some huge strides last season, which we maybe their biggest during their tenure in the NAHL. The team improved with 12 more wins than the season before and we able to secure one of the four playoff spots in the rugged South Division thanks to a torrid second half of the season.
The Jacks also had a standout season in the commitment department as 14 players who wore a Jackalopes uniform during the 2015-16 season also earned NCAA commitments.
The Jackalopes ran into the offensively charged Wichita Falls Wildcats in the opening round of the playoffs and gave up 17 goals in three losses as they were swept by the Wildcats, who eventually ended up in the Robertson Cup Championship game. Despite the loss, Jackalopes head coach Greg Gatto felt like progress had been made during the season. "I think we had some high points last season, particularly as it relates to our top-end guys, who had great seasons. However, in the end, we gave up too many goals and were not tough enough to score on. We also need to be better from a discipline standpoint as we took the most penalty minutes in the league last year," said Gatto.
As they did last year, Odessa will open regular-season play on the road against the Amarillo Bulls at the Amarillo Civic Center on September 10. Odessa won't play at home until the final weekend of October 27-29 when they welcome in the Lone Star Brahmas for three games. In between will be four games at the NAHL Showcase against Coulee Region, Northeast, Fairbanks and Wilkes-Barre/Scranton. "I think the South Division is shaping up to be another really good division and tough challenge this season. With the addition of Tony Curtale in Wichita Falls and the new team in Shreveport, along with the fact that everyone is a year older and wiser, I think it will make for some great competition."
Gatto, who is entering his fourth year behind the bench for the Jackalopes said that heading into the season, the Jacks went with an older and more experienced team. "Our depth is going to be a strong point this season. We have four lines that are going to be able to play and contribute on both sides of the puck. I think our top four defensemen will stack up against any four in the league and we are going to have two, 20-year-old goalies between the pipes, so we expect whole lot more from these guys and I hope they expect more from themselves," said Gatto.
With 14 players last season committing to the NCAA, the Jackalopes were one of the league leaders last season in the commitment department. Gatto believes that the promotion of players has been a key. "I think we set the players up to succeed. We as coaches have developed relationships with the scouts to get them any information they need and then it is all about providing the right atmosphere for players, be it at an NAHL event like the Showcase during the regular season."
Gatto continued… "The NAHL staff does a great job of promoting our league and its players. The events are one-of-a-kind and driven with the sole purpose of providing a stage and outlet for our players to perform.
As for Gatto's feeling on what his team could accomplish this season, he said that he wants his club to be a mirror of him. "I think ultimately, everyone wants to win the Robertson Cup, but we want to be able to have home ice for the playoffs. We also want to be more disciplined and be tougher to score on," said Gatto. "We have guys that are a year more experienced, I think we are going to be faster and tougher, so we are going to be a tough team to play against this season. We are going to come to work every night. I want energy, I want drive, I want speed. We are all fortunate that West Texas is a great place to be and the way that we are treated by our fans, ownership and support staff really makes us feel like a pro team," said Gatto.
Next up in the 24 in 24 series: Shreveport Mudbugs