Division Finals schedule announced for Robertson Cup Playoffs
April 27, 2016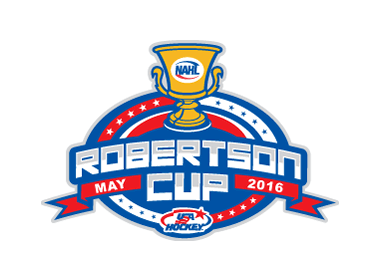 The North American Hockey League (NAHL) has announced the schedule for the 2016 NAHL Robertson Cup Playoffs Division Finals Round, which will take place from April 29-May 9, 2016.
In all four divisions the #1 and #3 seeds advanced through the Division Semi-Finals.
The two Clubs in each division that won a division semifinal series shall compete in a best-of-five series against each other. Clubs shall cooperate to schedule division final series competition. The higher seeded Club will have the right to host up to three games. The lower seeded Club must be able to host a minimum of two games. The first Club to win three games in a division final series will be declared the winner of the series and advance to the Robertson Cup Championship Final Four. The first Club to lose three games in a division final series will be eliminated from further playoff competition.
Central Division Finals (Best of 5 series)
#1 Bismarck Bobcats vs. #3 Austin Bruins
Game 1: April 29, Austin at Bismarck, 7:15 PM
Game 2: April 30, Austin at Bismarck, 7:15 PM
Game 3: May 6, Bismarck at Austin, 7:05 PM
Game 4: May 7, Bismarck at Austin, 7:05 PM*
Game 5: May 9, Austin at Bismarck, 7:15 PM*
*if necessary
East Division Finals (Best of 5 series)
#1 Aston Rebels vs. #3 Johnstown Tomahawks
Game 1: April 29, Johnstown at Aston, 7:00 PM
Game 2: April 30, Johnstown at Aston, 7:00 PM
Game 3: May 6, Aston at Johnstown, 7:30 PM
Game 4: May 7, Aston at Johnstown, 7:30 PM*
Game 5: May 8, Johnstown at Aston, 6:00 PM*
*if necessary
Midwest Division Finals (Best of 5 series)
#1 Fairbanks Ice Dogs vs. #3 Minnesota Wilderness
Game 1: April 29, Wilderness at Fairbanks, 7:30 PM
Game 2: April 30, Wilderness at Fairbanks, 7:30 PM
Game 3: May 1, Wilderness at Fairbanks, 5:00 PM (if series is 2-0 for Wilderness or series is 1-1)
Game 3 or 4: May 6, Fairbanks at Wilderness, 7:30 PM (Game 3 if series is 2-0 for Fairbanks, Game 4 if series is 2-1)*
Game 4 or 5: May 7, Fairbanks at Wilderness, 7:30 PM (Game 4 if series is 2-1, Game 5 if series is 2-2)*
Game 5: May 8, Fairbanks at Wilderness, 5:00 PM (if series is tied 2-2)*
*if necessary
South Division Finals (Best of 5 series)
#1 Wichita Falls Wildcats vs. #3 Topeka RoadRunners
Game 1: April 29, Topeka at Wichita Falls, 7:05 PM
Game 2: April 30, Topeka at Wichita Falls, 7:05 PM
Game 3: May 2, Wichita Falls at Topeka, 7:05 PM
Game 4: May 3, Wichita Falls at Topeka, 7:05 PM*
Game 5: May 7, Topeka at Wichita Falls, 7:05 PM*
*if necessary