Odessa, Bismarck pick up wins on Tuesday
March 15, 2016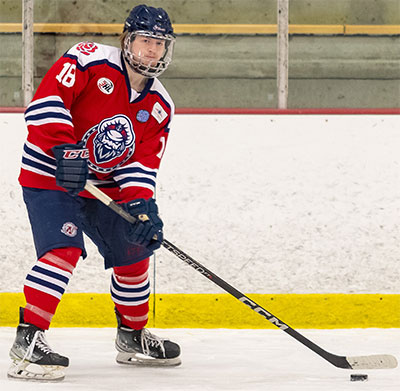 Odessa 4 @ Amarillo 1
– Five different players had multi-point nights and goalie Dean Shatzer made 38 saves as the Jackalopes picked up a big 4-1 road win in Amarillo on Tuesday night to stay within striking distance of the 4th and final playoff spot in the South Division. Odessa got off to a strong start, scoring three goals in the 1st period. Leading scorer Hampus Sjodahl lit the lamp just 2:23 into the game. That was followed by a goal from Daniel Kiraly. Gray Marr assisted on both of the first two goals. Pierce Pluemer added a power play goal late in the period to make the score 3-0. Late in the 2nd period, the Jacks made the score 4-0 with a power play goal from defenseman Jake Levin, his 1st goal of the season. Amarillo finally got on the board late in the 2nd period with a goal from Nicholas Santoro, but Shatzer was solid the remainder of the game to complete the win, which brought the Jacks to within two points of 4th place Corpus Christi. Bulls goalie Brian Baker made 38 saves in the loss.
Boxscore
Aberdeen 1 @ Bismarck 2 (OT)
– The Bismarck Bobcats moved back into a 1st place tie the Central Division thanks to a 2-1 home win in overtime on Tuesday night. It was a defensive battle from the get go and after a scoreless 1st period, in which both goalies had to make plenty of saves, the Wings grabbed the first lead of the game midway through the contest as Ethan Stewart scored his 4th goal of the season. In the final minute of the 2nd period, the Bobcats struck back as defenseman Cole Souto scored on the power play to tie the game at 1-1. After a scoreless 3rd period, the game would end with just 1:11 remaining in overtime as a rush up the ice by Oskars Batna found rookie Nick Alexander on the back door for the game-winner for his 11th goal of the season. Rookie goalie Nick Althaus continued his hot play since entering the league a few weeks ago, making 22 saves in the win. Aberdeen goalie Gavin Paczosa also played well in the loss, making 31 saves.
Boxscore