February 11, 2016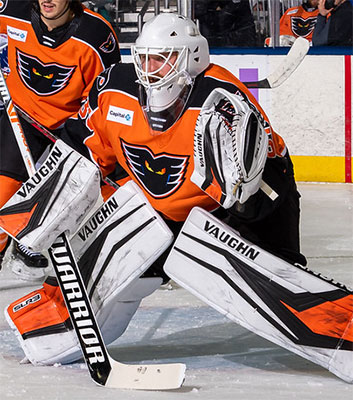 Atlantic Hockey Rookie of the Week: Lester Lancaster, Mercyhurst (Springfield Jr. Blues, 2013-15)
Lancaster had four points in a two-game split against Bentley, keeping Mercyhurst in fifth place in the AHC. He scored one goal and added three assists against the Falcons, including a three-point game in Mercyhurst's 5-2 victory Saturday night. His goal tied the game at one in the first period, then he assisted on the Lakers' game-winning goal in the second period.
Big 10 Hockey #2 Star: Steve Racine, Michigan (Chicago Hitmen, 2010-11)
Racine Recorded a .947 save percentage and 1.94 goals-against average to guide the Wolverines to a series split with the Spartans. He turned aside 38 shots in a 3-2 overtime loss on Friday, the recorded 33 saves in Saturday's victory, marking the fifth straight game that he has stopped at least 30 shots. He earns his sixth career weekly award and third this season.
ECHL Goaltender of the Week: Pat Nagle, Ft. Wayne Comets (St. Louis Bandits, 2006-07)
Pat Nagle of the Fort Wayne Komets is the ECHL Goaltender of the Week for Feb. 1-7. It is the fifth time in his career that he was received the weekly honor, tied for the third most in ECHL?history. The 28-year-old was 2-0-0 with a 1.50 goals-against average and a save percentage of .948 in two appearances last week. Nagle stopped 25 shots in a 5-2 win at Brampton on?Tuesday and made 30 saves in a 3-1 victory over Quad City on?Saturday. A native of Bloomfield, Mich., Nagle has appeared in 32 games with the Komets this season, ranking second in the league with 20 wins, tied for second with three shutouts, fourth with a 2.07 goals-against average and tied for fourth with a .925 save percentage. Nagle has appeared in 178 career ECHL?games with Fort Wayne, Idaho and Florida posting an overall record of 100-52-14 with six shutouts, a 2.64 goals-against average and a save percentage of .912.
SPHL Player of the Week: Scott Henegar, Huntsville Havoc (Michigan Warriors/Marquette Rangers, 2008-11)
The Southern Professional Hockey League (SPHL) on Tuesday announced Scott Henegar of the Huntsville Havoc is the Player of the Week for January 25-31. Henegar scored six goals, including two game-winners, and added two assists as the Havoc won two of three games last week. On Tuesday, the Trenton, MI native scored two goals as Huntsville defeated Mississippi 4-2. After being held scoreless in Huntsville's 6-1 loss to Louisiana on Friday, Henegar came back on Saturday with a four-goal, two-assist performance in the Havoc's 6-1 win over the IceGators. In recording his first professional hat trick, Henegar scored once in the second period and three times in the third, including twice on the power play. Henegar's four goals matched the SPHL high this year while his six points set a new individual game mark for the season. Currently in his first professional season, Henegar played collegiately at the University of Wisconsin-Stevens Point where he was an alternate captain his final two years and earned Honorable Mention All-WIAC honors his junior season. Henegar is currently tied for third in the SPHL with 16 goals and ranks fifth in shooting percentage.
Congratulations goes out to two former NAHL players for their NCAA Division I commitments this past week. Former Port Huron Fighting Falcons forward Logan Lambdin (2013-14) has committed to Michigan State University and former Soo Eagles defenseman Alex Robert (2012-13) has committed to Robert Morris University.
Former Bruins defenseman
Christian Folin
getting valuable experience (
read
)
Former Bobcats, Ice Dogs forward
Will Aide
retires (
read
)