22 in 22: Odessa Jackalopes
September 6, 2015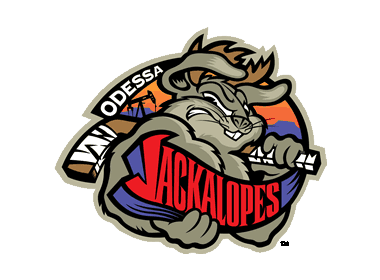 The 22 Teams in 22 Days series features a look at all 22 teams in the NAHL for the 2015-16 season, with a new team being highlighted daily, leading all the way up until the start of the regular season on Friday, September 11th. 22 in 22 will go in-depth into each NAHL team and will include interviews with all 22 head coaches in the NAHL, as they provide fans with their expectations and outlook for the 2015-16 season, including taking a look at their roster and their strengths as a team. It will also take a look back on last season and how each team fared and what they accomplished. Best of all, 22 in 22 is done to provide the fans of the NAHL with an inside look at their favorite team and what to expect.
Odessa Jackalopes
Head Coach: Greg Gatto (3rd year)
2014-15 record: 15-38-7, 37 pts. (8th in the South Division)
2014-15 leading scorer: Kenny Hausinger (68 points)
2015 Playoffs: Did not qualify
2015-16 Division: South
First regular season game: Saturday, September 12th @ Amarillo Bulls
Home opener: Friday, October 9th vs. Topeka RoadRunners
Last season did not go as planned for the Odessa Jackalopes. Looking for an improvement from the season prior, the Jacks posted the same number of wins (15) as they did a season ago. As a consequence, Odessa missed the playoffs for a third straight season. The Jackalopes best hockey of the season was played at the beginning and end of the year. The Jacks jumped out of the gate with a 4-4 record and had a good month of September. However, the Jacks posted just four wins from November-February. Odessa then won six games in the month of March, which was something to hopefully build upon for this season.
Odessa did take a big step forward in the NCAA commitment category as nine players from last year's team were committed to NCAA schools. Forward Kenny Hausinger, a Canisius commit, led the team in scoring with 68 points as was named to All-NAHL Rookie 1st Team, as well as, the All-NAHL South Division Team. His brother Christian Hausinger, also a Canisius commit, was named to the All-NAHL Rookie 2nd Team. Odessa head coach Greg Gatto said he learned a lot from last year despite the fact that Jackalopes didn't make the playoffs. "It was a big learning experience for me. We went a little younger with our group so there was definitely some more teaching to be done, but we had a great year of commitments, so from that standpoint it was a step forward for us," said Gatto.
However, last year's win total of 15, which equaled the season prior was a disappointment to Gatto and his staff. "We have to find a way to get better because last year didn't even come close to our expectations. We played some good hockey at the beginning and end of the season and maybe if the season had gone on another month, we could have been a playoff team, but we weren't good enough in the meat of the season," said Gatto. Gatto pointed to a few reasons behind the lack of success. The first was an inexperienced roster. When the Jackalopes began the season, they had just one defenseman with junior experience. The second was that the Jackalopes played 18 of the first 20 games away from home, something that was especially difficult for a younger team. "I think there we a lot of little inconsistencies from game to game, which added up," said Gatto. "It seemed to snowball and by the time we got it figured out, it was too late."
Gatto said that in building the team for the 2015-16 season, he first needed to find two new goalies, and so Odessa brought in goalies Joe Morgan and Dean Shatzer for this season. Shatzer played for Culver Prep School the past four years and has committed to play NCAA Division I hockey at Dartmouth College. Morgan is from Colorado and played Tier III junior hockey last season. "Both guys battle hard and both had really good camps," said Gatto.
Gatto also said he wanted to increase his team speed and be a fast team, which he believes he has addressed. He also stated he wanted to bring in players with character that could play within an established role. "I maybe did not do as good of a job as I could of establishing some roles last season and that is something that will be at the forefront this season," said Gatto. "If a third-veteran has to be a 3rd or 4th line center than so be it, but want somebody who will accept that role and run with it and turn it into a positive experience for he and his teammates.
Odessa will have nine players from last year's team returning to the line-up, which is a solid number to help turn the tide this season. They include forwards Hampus Sjodahl (34 points), Eric Carreras (26 points), Zach Zech (25 points), Ryan MacKellar (14 points) and Taylor Gatto (2 points), along with defensemen Andrew McLean (21 points), Dakota Menslage (21 points), Daniel Kiraly (9 points) and Nate Werhane (18 games). "All these guys coming back know what I expect, they know the style of play and I think they are all driven to become better," said Gatto.
"The commitments will go higher with a more successful team on the ice, so we need to improve just for that reason alone. However, you can't send a guy to an NCAA school just for the commitment, you have to send them as a prepared player and someone that is going to make an impact at the next level. That is something we have been working hard on during my time here. I know what NCAA schools are looking for and we now expect that commitment number to be higher this year," said Gatto.
Gatto said that this year's team will be older than last year. "I think the South trends a little older and I look at the top 20 scorers in the league last season and the majority of them were 19-20-year-olds, so that certainly says something. I brought in two players from Canada who will be in their third year of junior hockey, so that should help. We want to get off to a good start and gain some confidence. We have our home opener earlier than usual and we don't play as many games on the road to start the season, so that should help us. From our first meeting of the season, we have displayed a picture of the Robertson Cup because that's ultimately what we want to him," said Gatto.
Next up in the 22 in 22 series: Springfield Jr. Blues