Robertson Cup Finals Preview
May 15, 2015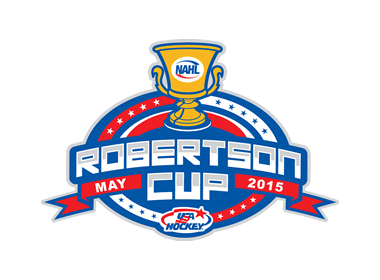 By Alex Kyrias and Josh Boyd
It all comes down to this… two teams, the Austin Bruins and the Minnesota Wilderness, who have battled all season long to get to this point, have the opportunity to win the Robertson Cup. In the 39-year history of the NAHL, only 13 teams have won the Robertson Cup. This season, a new name and team will be added to that distinguished list and forever be remembered in NAHL history.
Game 1: 5/15 - Wilderness at Austin, 7:05pm
Game 2: 5/16 - Wilderness at Austin, 7:05pm
Game 3: 5/17* - Wilderness at Austin, 5:30pm
*if necessary (all times Central)
This season also marks the fourth time in the last four years that a new champion will be crowned. It is also a special weekend for Minnesota, 'The State of Hockey.' Traditionally a state that celebrates and relishes its high school hockey, college hockey and the NHL's Minnesota Wild, all eyes of the state turn to Austin, Minnesota where two NAHL Minnesota-based teams will contend for the National Championship. A total of 19 Minnesota natives, who are on both the Bruins and Wilderness rosters, will compete for the cup in their home state.
The Bruins got to this point by defeating Aberdeen in the Central Division Semi-Finals and then Minot in the Central Finals. Following that, they had to make a trip South for the second year in a row and for a second year in a row, used overtime heroics to win their Semi-Final series, this time against the Lone Star Brahmas.
The Wilderness were on the brink of elimination after their first two playoff games, as they went down 0-2 to the Coulee Region Chill. However, they stormed back to win three straight to capture the series, then swept the Fairbanks Ice Dogs in the Midwest Finals. A tough task loomed against the Janesville Jets in the Semi-Finals, but the Wilderness went into Janesville and swept the Jets and in the process ran their playoff winning streak to eight straight games. The last team to win eight straight in the playoffs were the 2009-10 Bismarck Bobcats, who went onto win the Robertson Cup that season.
The Bruins, who contended for the Cup in last year's final series in Fairbanks, Alaska (eventually falling to the Ice Dogs), are back in the hunt. This time, they don't have to travel thousands of miles – the Bruins are the home team for the full final series, whether it goes two or three games. The Riverside Arena in Austin is sure to be rocking with fans from both teams.
"It's pretty amazing we've been able to get here two years in a row," said Bruins head coach Chris Tok. "Now, we need to find a way to win it. It is very rewarding to have the Robertson Cup finals here in Austin. Any time you don't' have to travel it helps you, although the Wilderness are only traveling three and a half hours to get here. Both teams still have to lace them up and play – we are two very evenly matched teams."
He's pretty much right on – the Wilderness have a slight edge in goals for (42-40), and against (20-26).
"We're just a second year program, and getting to this spot is a pretty big moment," said Wilderness head coach Corey Millen. "Last year, we were pretty successful in finishing fourth in the league. It will come down to who plays a solid game. We'll have to continue to do the little things, play as a solid team and continue to get strong goaltending and special teams play."
During the regular season, the series was absolutely even. Each team won two regular season games, and each team won two games in either overtime or a shootout. Three of the eight games went past the overtime to shootouts.
No shootouts will take place during the Robertson Cup finals – teams play until a game-winning goal is scored, whether that happens in regulation or overtime or multiple overtimes.
"Austin was very good. They're just a very solid team that works extremely hard and makes you work for every inch of ice," said Millen. "Between their work ethic, tenacious play and the fact they're solid in every area, they are very formidable."
As for the Wilderness, they've gotten "timely" goaltending, mostly from Brock Kautz (2.10 goals against average, .931 save percentage). He's played in nine of the Wilderness' 11 games. Contrast that with Austin, which has split time almost evenly between Jake Kelly (seven games) and Evan Smith (five).
"We've been playing both guys. They both played throughout the regular season and they earned the opportunity to play in the playoffs and they've both gotten us wins," added Tok.
Offensively, the two teams have seen their regular season heroes surface as the game-changers in the playoffs as well. The Bruins' top three have been the same in both, though in slightly different order – Nico Sturm leads with 13 points, followed by Alex Petterson and Trevor Boyd (no relation to the author) with 11 points apiece.
"Niko Sturm has consistently been our most consistent forward through three rounds. Petterson has scored a big overtime winner and has had quite a few assists," said Tok. "We like to possess the puck, play fast and create as man scoring opportunities as possible. We don't dump the puck a lot. We like to push the pace of the game."
On the Wilderness side, University of Minnesota recruit Darian Romanko leads the way with 18 points. He also led in scoring during the regular season (61), just ahead of Bemidji State recruit Aaron Miller and Alaska-Fairbanks recruit Tyler Cline.
"Romanko has been our catalyst all year long and has scored big, timely goals all year. It'd be nice for him to do that this weekend," Millen said.
Daniel Litchke has been a big help to Minnesota, seeing his points per game rise more than 200 percent to score 11 in 10 playoff games (from 24 in 59 regular season games).
"You don't get this far without everyone being a contributor," said Millen.
Austin will be lining up a well-rounded defensive corps to keep as many Wilderness from contributing as possible.
"We have some offense on the blue line, and some guys who play with grit," said Tok. "Ian Scheid has been our top offensive player on the back and, and Liam Feeney has also put some points up. Jake Arroyo and Riese Zmolek have been a big defensive pairing."
With the well-rounded defense that the Bruins bring to the table, watch for the Wilderness to continue to get in front of pucks.
"Shot-blocking wasn't particularly one of our strengths [during the regular season], but guys have picked up there. [Army recruit] Ian Mansfield, whom we picked up late from Oddessa, and Niklas Lehtimaki have stepped up and played pretty hard on defense, but it's been a team effort."
That's really what any playoff series is about, really – a full team effort is necessary for any success.
"Jamie Huffman, in charge of recruiting for us, has brought in not only great players skill-wise, but players with great character," said Tok. "We expect them to be totally different players in May than they were the previous September. Having success in the past has helped us to bring in guys who have a great learning curve and who have gotten better."
A first Robertson Cup final is a bright moment for the Wilderness, but there could be a far brighter one ahead.
"Getting to this spot is a pretty big moment," said Millen, "but winning in the North American Hockey League comes down to just playing a good, solid game every night."