NAHL attendance hits one million mark for fourth straight season
April 6, 2015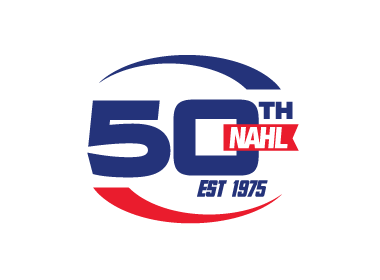 For the fourth straight season, over one million fans went through the turnstiles of NAHL arenas during the 2014-15 regular season. It continues a trend that began five years ago, further proving that the NAHL and the product that is on the ice each and every night continues to be more popular now than ever before.
Between the 24 teams in the league, an average of 1,405 fans came to regular season games in 2014-15. A total of 1,012,204 fans went through NAHL turnstiles this season. The 1,405 fans per game is the second highest average total in NAHL history. During the 2012-13 season, an average of 1,524 fans attended NAHL games, which set an all-time record.
One of the big reasons behind the numbers has been the consistency of the NAHL in recent years, which has seen a limited amount of team movement. That has enabled teams to stay in one area for an extended period of time, thus resulting in a consistent community presence.
"I think that the NAHL and its member teams place a huge emphasis on being a community-first driven team and because of that, the fans feel a special connection with their hometown team because they have made it a priority to become more involved in community-wide projects," said NAHL Commissioner Mark Frankenfeld. "Our dedicated ownership groups have all made it a priority that begin involved in their respective communities is just as important as their play on the ice or the development of the players. Having that type of commitment really molds the players into well-rounded young men and gives them a great life experience while they are playing away from their home."
For the second straight season, the Corpus Christi IceRays led the NAHL in attendance with an average of 3,163 fans. They were again bolstered by an incredible pair of crowds during the final weekend of the NAHL regular season which saw more than 10,000 fans attend the back-to-back games. They also drew a league-high crowd of 6,965 fans during a home game on February 7th.
Along with Corpus Christi, the Wenatchee Wild, Amarillo Bulls, Fairbanks Ice Dogs and Johnstown Tomahawks rounded out the top 5 in league attendance. 14 of the 24 teams had an average attendance of 1,000 or more fans, which included several teams operating at near capacity of their arenas including Fairbanks, who again operated at a 97% capacity. Others included the Lone Star Brahmas, the Aberdeen Wings and the Minnesota Wilderness.
Teams continued to capitalize on an entertaining product, along with several community-based initiatives to introduce their players to their respective communities. Finally, there was the talent level of the players, which saw 130+ make NCAA commitments to date and several players with NAHL ties ranked in the NHL Central Scouting rankings.
"We have a tremendous core of hard-core fans and starting out five years ago, they were the ones who really got behind the team. I think once people see the enthusiasm and energy the players have at this level, they really begin so see the excitement behind coming to the games. Our players are hard working and never give up and I think fans can relate to that. Over time, that builds momentum for us season to season and it results in very consistent and successful results in our attendance," said Corpus Christi IceRays General Manager Pat Dunn. Corpus Christi led the NAHL in attendance this season.
"We also have a staff that works very hard to reach out to the community, particularly groups and charities. I think that if we can identify certain nights where they can come to a game, even if it is for just 1-2 times a season, then that builds the base and the more groups we work with, the better the attendance. People are know getting used to our theme nights being the same time each year and they plan around that. We plan all season long for those special nights that we try and it has been working well for us. The goal is to just slowly increase it each year. There are a lot things to do in our area, so we have to set ourselves apart as to why an NAHL game in Corpus Christi is going to be something they want to come to," continued Dunn.
The Minnesota Wilderness were one of 14 NAHL teams to average 1,000 or more per game and they increased their average attendance almost 50% over a season ago in a market that is normally dominated by high school hockey in Cloquet, Minnesota. Wilderness Assistant General Manager Josh Petrich said that there were a number of reasons behind such a big increase. "I think first and foremost we benefitted from hiring a full time General Manager in Dave Boitz. He has the experience necessary to make something like this successful and he led the charge in the ground and in the community to spread the word about what a great product we have on the ice. It is a community that knows and understands hockey very well, but we have made it our job to educate them about what exactly the NAHL is and where it fits in the hockey pyramid. They are passionate and loyal with their support of their local hockey teams and we have managed to become a part of that. We have made great strides with getting our players in the community and making them a part of it," said Petrich.
Credit for continued and consistent numbers like this not only extends to the fans, but also to the 550+ players in the league, who not only work hard on the ice, but also make time for team activities in their communities off the ice. It also goes to the owners, coaches and staffs across the league that spend tireless hours of preparing their teams and getting the word out about the excitement that is the NAHL. The NAHL would again like to thank everyone for another terrific season and your continued support of the League of Opportunity.