Avalanche finds winning formula
October 29, 2007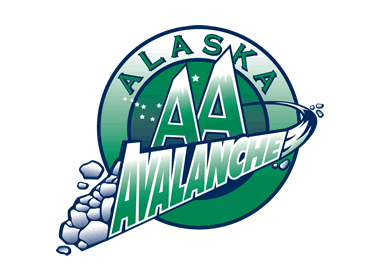 Read the full NAHL Weekly Release.
Struggling to find any sort of consistency out of the gate, the Alaska Avalanche has finally built some winning momentum after stringing together two wins last weekend for the first time this season.
"We're getting better on a daily basis and these victories are monumental for our team's confidence," said Avs coach-GM Jamie Smith, whose team improved to 5-9-1 on the season. "We're a young team and we're starting to buy into the fact that hard work on both ends of the ice will pay dividends."
Scott Barrera (game-winner), Tyler Currier and Michael McCurtain all fashioned two-goals nights as the Avalanche downed the Texas Tornado on Saturday, 8-1. Kent Detlefsen added a goal and an assist, while goaltender Nathan Corey turned aside 17 shots.
The next night, Barrera scored the only goal of the shootout as Alaska came away with a 3-2 win over the Kenai River Brown Bears. Kyle Pichler and Alex Rasmussen scored in regulation for the Avalanche, and goaltender Dusan Sidor made 30 saves on top of being a perfect 6-for-6 in the shootout.
"Everybody chipped in on every part of the game, and that's why we were successful," said Smith.
Smith attributes his team's slow start to a number of factors, one being that the Avalanche had to recruit 23 new players this year and build chemistry from within. That and Alaska boasts one of the youngest teams in the NAHL.
"And opening up on the road for 28 days doesn't help," he added.
The Avalanche hasn't stood pat, however. The club made some key additions to its defense over the past few weeks, including Detlefson, Alaska's leading-scorer with 13 points whom it acquired from Alexandria, as well as Vince Stratte and John Strahle.
"Those guys have helped us tremendously in terms of stabilizing our blue line and bringing us depth," said Smith. "The entire defensive core, really, has started to settle in and play better."
Upfront, the line of Currier, McCurtain and Rasmussen, which combined for five goals and four assists last weekend, is starting to come alive. Currier, who notched two goals and three assists last weekend, now has five goals for nine points after 14 games.
"He played unbelievable last weekend," Smith said of the 19-year-old from Anchorage. "He made a commitment on both ends of the ice and it paid off for him on the scoresheet."
The goaltending tandem of Corey and Sidor has been holding its own as well, especially Corey.
"Nathan has adjusted nicely to the Junior A level," said Smith.
Still work to be done, the Avalanche, which won't leave Alaska again until January, is concentrating on constant improvement as its battles its way up the South Division standings.
"We need to continue to work hard and stay within our game plan of grinding out games," said Smith.
AROUND THE NAHL
CENTRAL INTELLIGENCE: Eleven (11) NAHL players were recognized on the NHL Central Scouting Bureau's "Player to Watch" list for 2008 draft-eligibles released last week.
BONNETT TO BENTLEY: Second-year Mahoning Valley defenseman Trent Bonnett, 19, has committed to Bentley College (Atlantic Hockey) for the 2008-09 season. The Butler, Pa., native has a goal and three points after 14 games this year.
RANGERS' JERSEY AUCTION A HIT: The Rangers' "Paint the Place Pink" jersey auction held after Thursday night's Marquette-Alpena game raised nearly $9,000 for the Marquette General Hospital Cancer Center.
A NEED FOR REED: Topeka forward Reed Seckel, 18, figured in three of the RoadRunners' four goals last weekend (a goal and two assists) in a two-game split with Wichita Falls. ""Reed has attributes that can't be taught," said Roadrunners coach Scott Langer. "He works hard every shift and he contributes in a lot of different ways."
ROMASCO IMPRESSES: North Iowa forward Tyler Romasco, 20, potted a goal and three assists in the Outlaws' 8-2 win over Alexandria on Saturday. "He's a great offensive player," said Outlaws assistant coach Jeff Crouse. "He's patient with the puck and has good vision."
BIG BEN: Texas forward Ben Van Lare, 19, tallied four goals and an assist in the Tornado's 8-3 win over Kenai River on Thursday. He was also a plus-3 on the night. "Ben is becoming a very solid performer for us night in and night out," said Tornado coach Dwight Mullins.
JARBOE KEEPS ROLLING: Wichita Falls goaltender Mike Jarboe, 19, picked up his league-leading ninth victory of the season in the Wildcats' 3-2 triumph over Topeka on Friday. "Mike has been the key ingredient to our team's early success and we hope he continues his excellent play," said Wildcats coach John Bowkus.
BUKOWSKI TAKES CHARGE: Fargo-Moorhead defenseman Brandon Bukowski, 20, picked up an assist and was a plus-2 as the Jets went 1-1 against Southern Minnesota last weekend. "He's been a nice defenseman for us this season and it's good to see another dimension from him," said Jets coach Chad Johnson.
GRAHAM STAYS HOT: Mahoning Valley forward Derek Graham, 19, moved into third place on the NAHL scoring chart after notching three goals and three assists last weekend in a two-game split at Traverse City. "Derek had a great weekend again," Phantoms assistant coach Curtis Carr said. "He's been an offensive leader for us. He comes every game, he works hard, and he's been contributing. Right now, he's doing everything for us that we can ask for."