Bandits ring in New Year right with sweep
January 4, 2010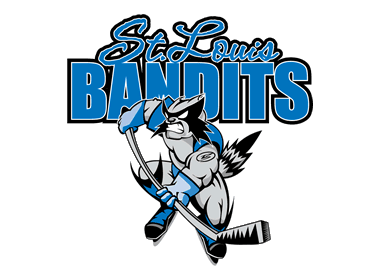 Read the full NAHL Weekly Release.
Returning from the holiday break, the St. Louis Bandits wanted nothing more than to get the New Year off on the right foot.

They got their wish, picking up three wins over the Springfield Jr. Blues to keep pace with the South Division-leading Topeka RoadRunners, who also celebrated three victories last weekend.

"Anytime you can pick up a three-game sweep over a talented team like Springfield, you have to be pleased," said Bandits assistant coach Rocky Russo, whose team improved to 24-5-1 on the season. "It was important for us to get the ball rolling in the right direction to start the second half, and we did that."

The Bandits rang in 2010 with a 4-3 victory on New Year's Day. Dan Olszewski (goal, assist) and defenseman Patrick Raley (two assists) each fashioned two-points games, and goaltender Tyler Bruggeman turned aside 20 shots.

The next night, three different players scored for St. Louis and Ryan Belonger chipped in two assists as the Bandits skated to a 4-1 triumph over the Jr. Blues. Craig Kitto connected for the game-winning marker, and netminder Tom Comunale stopped 32 shots to pick up the win in his first NAHL start.

On Sunday, Kitto struck for two more goals and assisted on Chris Ciotti's game-winner as the Bandits celebrated another 4-1 victory. Bruggeman stopped 25 shots between the pipes.

"We have a good mix of veterans and young guys who are contributing," said Russo. "We've had the opportunity to watch our rookies grow over the last three months and they're becoming big pieces to our puzzle.

"The guys are a close group, on and off the ice, too, which is the most important part of the equation. They trust each other and always put the team before themselves."

And there's no better example than second-year forward Jordan Bourgojne. The Bandits captain might not put up jaw-dropping offensive numbers - the 20-year-old from Alberta has three goals for nine points after 25 games - but his leadership and work ethic have keyed St. Louis' first-half success.

"He's the heart and soul of our club," said Russo. "He's a fierce leader, on and off the ice, and he plays with such heart that his teammates can't help but feed off of his energy.

"He's a last-year (junior) guy, so it'll be tough to lose him, but he'll be a great addition to a Division I college program."

Speaking of college, the Bandits lost an important part of their team when goaltender Garrett Bartus left for the University of Connecticut (Atlantic Hockey) after the holiday break. Bruggeman, however, has answered the call.

The 18-year-old from Mankato, Minn., who started the season in Fairbanks has won his last four starts and holds an 8-1-1 record since coming over from the Ice Dogs.

"Garrett deserved the opportunity to start at the Division I level and we were happy to move him on," said Russo. "Losing him was tough, but Tyler has stepped up to fill the void and we haven't skipped a beat."

Nor have the veterans. The Bandits have been leaning on the experience of forwards Ciotti, Kitto and Brooks Bertsch - three of the team's top five scorers who were members of the Bandits' Robertson Cup championship team last season - to help shape the club into postseason form.

"They know what it takes to win and understand what a grind junior hockey can be," said Russo. "Each of them is extremely competitive and the fact that they're all the same age (19) has driven them to compete even harder to be the best of the bunch.

"They've each taken on a much larger responsibility with this season's team and have all contributed in their own way."

And there's no shortage of newcomers helping the Bandits' cause, either, in particular forwards Ryan Stouffer and C.J. Eick and defenseman Grant Gettinger.

A stay-at-home blueliner, Gettinger sees minutes in all situations. Stouffer, meanwhile, has a knack for delivering timely goals upfront.

And he might only be 17 and size up at 5-foot-7 and 155 pounds, but Eick's fearless demeanor hasn't gone unnoticed.

"He's a smaller kid, but plays much larger than his frame," said Russo. "He has no problem laying down to block a shot or throwing a bodycheck against a much bigger player.

"His commitment, both on and off the ice, is quite impressive for a young guy."

With the recent commitment of Olszewski to the University of Denver, a perennial power in the WCHA, the Bandits now have five players bound for college next season. For a program than annually sends 10-plus kids to the Division I ranks, that number is sure to balloon in the coming months.

"The entire reason we do this is to get players to the next level," said Russo. "In addition to Dan, we expect to have quite a few more players making plans to play Division I hockey over the course of the rest of the season."

And, as a result of earning the top seed in the South Division with the highest winning percentage at the holiday break, the Bandits will send six players to this month's NAHL Top Prospects Tournament in Ann Arbor, Mich. - Bertsch, Bourgojne, Ciotti, Kitto, Raley and defenseman Blake Edwards - which will only help the college cause.

"That's a great opportunity to showcase our players to the college coaches, and getting that top seed in our division was a high priority for our organization," said Russo. "Every year more and more players sign college deals as a result of playing well during Top Prospects and we're hoping our guys will be lucky enough to get the same opportunities."

Continued success on the ice will also help as the Bandits gear up to make a run at their fourth straight Robertson Cup championship. Happy where they sit heading into the New Year, Russo acknowledges there's still plenty of work to be done.

"We want to continue to develop, both as a group and individually," said the coach. "As long as the boys stay committed to getting better everyday, we can continue to grow as a team."
AROUND THE NAHL
ALASKA AVALANCHE: Forwards Beau Walker (West Richland, Wash.) and Blake Huppert (Wasilla, Alaska) scored the Avalanche's goals in its two losses to Wenatchee.

ALBERT LEA THUNDER: Forwards Chris Cass (Lakeville, Minn.) and Anthony Iaquinto (Brighton, Mich.) scored in regulation to help the Thunder pick up a point in a 3-2 shootout loss to Alexandria on New Year's Day.

ALEXANDRIA BLIZZARD: Forward Simon Cederborg-Nilsson (Sweden) scored a goal in regulation and one in the shootout to help lift the Blizzard to a 3-2 win over Albert Lea on New Year's Day.

ALPENA ICEDIGGERS: Forward Ryan Timar (Novi, Mich.) tallied a goal and three assists as IceDiggers went 0-3-1 to start their second half of the season.

BISMARCK BOBCATS: Forward Dominic Panetta (Grand Rapids, Mich.) tallied three goals, including the overtime game-winner in the Bobcats' 4-3 victory over North Iowa on New Year's Day, in three wins.

FAIRBANKS ICE DOGS: Off since Dec. 19, the Ice Dogs return to action this weekend for a two-game set against Alaska beginning on Friday.

JANESVILLE JETS: Forward Cam Severson (Seattle) potted four goals in regulation and the only goal in Saturday's shootout - a 3-2 win - as the Jets skated two a two-game sweep over Alpena.

KENAI RIVER BROWN BEARS: Off since Dec. 19, the Brown Bears will return to NAHL action on Jan. 14 when they begin a three-game series in Fairbanks.

MARQUETTE RANGERS: Forward Josh Bussell (Detroit) connected for two goals and two assists as the Rangers went 1-2 last week. "Josh is starting to heat up," said head coach Kenny Miller. "When we went out and traded for him (from Texas), we expected him to put up these type of numbers."

MOTOR CITY METAL JACKETS: Forward Petrus Sipila (Grosse Ile, Mich.) put home the game-winning goal - shorthanded in the third period - in the Metal Jackets' 2-1 victory over Traverse City on Saturday.

NORTH IOWA OUTLAWS: The Outlaws picked up two points against Bismarck with an overtime loss on New Year's Day and a shootout loss on Saturday.

OWATONNA EXPRESS: Goaltender Matt Hemingway (Alexandria, Minn.) picked up wins in his first two NAHL starts, turning aside 54 of 57 shots.

SPRINGFIELD JR. BLUES: Forward Ross Anderson (River Falls, Wis.) tallied a pair of goals in the Jr. Blues' 4-3 loss to St. Louis on New Year's Day.

ST. LOUIS BANDITS: There's more to the Bandits' success story than just their winning tradition, according to assistant coach Rocky Russo. "The local businesses are very supportive of the team and players, and the fans and billet families are committed to being a part of the 'Bandit Experience,'" he said.

TEXAS TORNADO: Off since Dec. 19, the Tornado returns to NAHL action this weekend for a two-game series against Topeka.

TOPEKA ROADRUNNERS: Forward Nate Milam (Westland, Mich.) unleashed for five goals, including a hat trick in an 8-0 win on Saturday, as the RoadRunners skated to a three-game sweep over Wichita Falls. "Nate really used his speed last weekend to create a lot of opportunities and was able to capitalize on them," said assistant coach R.J. Enga.

TRAVERSE CITY NORTH STARS: Playing five games in seven days after returning from the holiday break, the North Stars fashioned a 4-1 record to move into first place in the North Division.

WENATCHEE WILD: Goaltender Brendan Jensen (El Granada, Calif.) backstopped the Wild to a two-game sweep over Alaska, turning aside 48 of 50 shots. "Our team has a great deal of confidence in Brendan; he's proven night in and night out that he's an elite goaltender," said associate head coach Ryan McKelvie. "Brendan's upside is tremendous and I think he has the work ethic and mental focus to take his game to very high levels."

WICHITA FALLS WILDCATS: Despite registering only one assist in three losses to Topeka, forward Brian Sheehan (St. Louis) continues to lead the NAHL with 22 goals.