Warriors double up USNTDP 17 Team in exhibition
September 7, 2014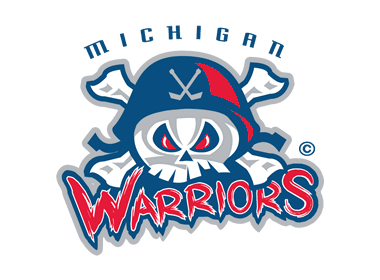 USNDTP 17 Team 3 @ Michigan Warriors 6 - The NAHL's Michigan Warriors won a big preseason game 6-3 against the USNTDP 17-Team of the USHL on Saturday Afternoon.
Warriors forward Mark McGee scored the lone goal of the period putting the Warriors up 1-0 after the first period. The second period had a lot more action for both teams, as they both put three goals on the board in the period. Ryan Bloom, Cody Lichtenvoort, and Conor Durgan were the goal scorers for the Warriors. The USA 17 team did all of their scoring in the second period with a goal from Clayton Keller and two from Collin Adams.
In the third period the Warriors kept putting on the pressure and pulled away after their two goals putting the score to 6-3, the final score. Goals in the third for the Warriors were from Tyler Groat, and an empty netter from Zed Dietrich.
Playing solid in the net for the Warriors were Trevor Gorsuch who stopped 19 of 21 shots, and Ryan Lar-kin who stopped 18 of 19 shots. Team USA also played two goalies Jake Oettinger who stopped 12 of 16 shots, and Joseph Woll.
The Warriors outscored Team USA 6-3 on 11 less shots throughout the game, Warriors had 29 and Team USA had 40. With great power play strategy the Warriors were able to get four of their six goals on the power play. The Warriors final preseason game will be against the USA U18 National team on September 13, before playing in the NAHL showcase September 17-21.