Warriors to face USNTDP in exhibition games
September 5, 2014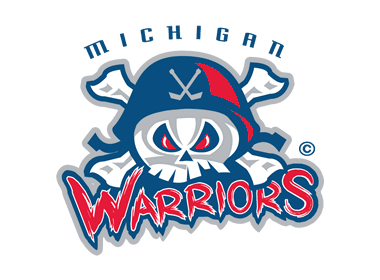 The Michigan Warriors hockey team will unofficially open the 2014-15 season Saturday, Sept. 6, with an exhibition scrimmage against the U.S. National Under-17 team at Flint Iceland Arenas.
The puck drops at 3 p.m. and the game is free to attend, giving the public its first glimpse at the defending North American Hockey League North Division champions. Goaltender Trevor Gorsuch, forwards A.J. Marcinek and Tyler Groat and defensemen Ryan Dougherty and Cody Lichtenvoort are among the 11 players returning from a Warriors team that finished the 2013-14 regular season 30-20-10 and reached the semifinals of the Robertson Cup playoffs.
The Under-17 U.S. National team includes 14 players committed to Division I schools, including Bloomfield Hills' Ryan Lockwood (Michigan). Five other Michigan natives are on the team, including two from the Brighton area.
It will provide a good early test for the Warriors who lost several key members from last year's squad. The main core of forwards who produced the offense from a season ago is gone including a total of 163 points last from the likes of Zack Szajner, Colin Larkin, TJ Stuntz and Jake Hopfner, who are also all committed to NCAA schools.
"I think it is great opportunity for our players to play against the elite. The US 17 Team had one of the best teams in their program's history last season as they showed throughout the season and at our Top Prospects event, so I think it is going to be a major test for us," said Mantha. "I know what it is all about as I spent three years with the USNTDP program, so I am hoping it will be the test we need before we head to the NAHL Showcase. It also gives our players some great exposure because you know there will be a lot of scouts at the game."
The Warriors play the Under-18 U.S. National team the following weekend, Sept. 13, at the Ice Cube in Ann Arbor before opening the NAHL regular season with a four-game showcase tournament Sept. 17-21 in Blaine, Minnesota.