Watch Now: Robertson Cup Finals Rewind
May 13, 2014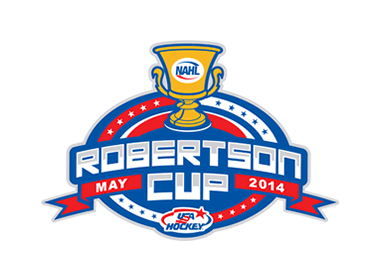 The North American Hockey League (NAHL) is pleased to continue the NAHL Plays of the Week, seen exclusively on NAHL.com this season.
The Plays of the Week can be viewed every week on the NAHL TV platform and features the top goals and saves of the week from NAHL games played Monday-Sunday that respective week.
This week, it is the final plays of the week of the 2013-14 season as Fairbanks was crowned the Robertson Cup Champion this past weekend. Take a up close and personal look at the Robertson Cup Finals, including all the goals scored during the two games as Austin and Fairbanks battled it out.
This week's edition features plays from the following:
Game 1
Drew Anderson - Austin Bruins
Jacob Hetz - Fairbanks Ice Dogs
Hans Gorowsky - Fairbanks Ice Dogs
Jay Dickman - Austin Bruins
Loonie Clary - Fairbanks Ice Dogs
Tayler Munson - Fairbanks Ice Dogs
Sam Kauppila - Austin Bruins
Jay Dickman - Austin Bruins
Tayler Munson - Fairbanks Ice Dogs
Game 2
Jay Dickman - Austin Bruins
Victor Liljegren - Fairbanks Ice Dogs
Colton Wolter - Fairbanks Ice Dogs
Viktor Liljegren - Fairbanks Ice Dogs
Duggie Lagrone - Fairbanks Ice Dogs
Colton Wolter - Fairbanks Ice Dogs
Niko Hildenbrand - Austin Bruins
Jacob Hetz - Fairbanks Ice dogs