Robertson Cup Finals: Fairbanks vs. Austin
May 5, 2014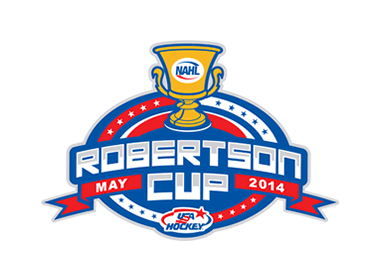 After two thrilling and competitive Semi-Final series, the NAHL Robertson Cup Finals are set as the Fairbanks Ice Dogs will host the Austin Bruins in a three-game series from May 9-11 to determine the NAHL's National Champion.
The Ice Dogs, who won both the Midwest Division regular season and playoff titles, made quick work of the Michigan Warriors in their Semi-Final series with a 2-0 series sweep. The Ice Dogs allowed just one goal in the two wins.
Meanwhile, the Bruins, who won both the Central Division regular season and playoff titles, had a tougher time in Topeka. After a Game 1 loss, the Bruins responded with a 6-4 win in Game 2 and a 4-3 overtime win in Game 3 to advance to the Finals.
This will be the Ice Dogs third appearance in the Championship. They lost to Bismarck in the Finals in 2010 and a year later won the Robertson Cup in 2011, beating Michigan in the finals. This is Austin's first ever appearance.
The NAHL Robertson Cup Finals is a best of three series and begins at 7:30pm on Friday, May 9th with Game 1 at the Big Dipper Ice Arena in Fairbanks. Game 2 is set for the same time on Saturday, May 10th and if Game 3 is needed, it will be played at 5:00pm on Sunday, May 11th. All times are Alaskan standard time.
The Bruins and Ice Dogs split in a four-game series during the 2013-14 regular season, and three games were decided by one goal. Austin won 2-1 last Oct. 25 and 4-3 last Dec. 31 at the Riverside Arena in Austin. The Ice Dogs swept a series Feb. 14-15 at the Big Dipper, respectively winning 5-4 and 4-1.
Tickets for the Robertson Cup Championship Series go on sale Tuesday. Advance tickets are available in person in Fairbanks at Sport King, Play It Again Sports, Gene's Chrysler, the Fairbanks Community Museum downtown, North Polar Expresso in North Pole, Fort Wainwright, Eielson Air Force Base or online at
www.fairbanksicedogs.com
. Advance tickets are $15 each and tickets purchased on game days at the Dipper are $20 each. Children younger than 5 are admitted free.
If fans can't be at the game in person, the three game series can be viewed live on
FASTHockey