A look at the Division Finals schedule
April 15, 2014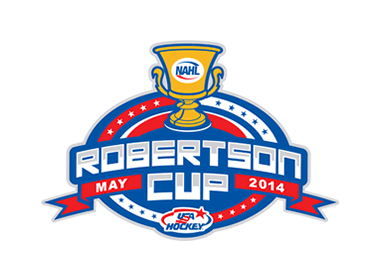 The Divisional Semi-Final round is complete and eight teams remain in the quest for the Robertson Cup. All the series were completed on an historic Saturday night, in which all the games went to overtime. In the case of Game 4 of the Central Semi-Finals in Minot, the Minotauros and the Austin Bruins needed almost three full overtimes to finally determine a winner, which ended up being the Bruins in the longest game in the NAHL modern era.
And so we move onto the Divisional Finals Round. The rules state:
Matchup: The two Clubs in each division that won a division semifinal series shall compete in a best-of-five series against each other.
Playoff Dates: Round 2 of the Division Finals may begin no earlier than Thursday, April 17, 2014 and conclude no later than Monday, April 28, 2014.
Scheduling: Clubs shall cooperate to schedule division final series competition. The higher seeded Club will have the right to host up to three games. The lower seeded Club must be able to host a minimum of two games.
Series: The first Club to win three games in a division final series will be declared the winner of the series and advance to the Robertson Cup Semi-Final round. The first Club to lose three games in a division final series will be eliminated from further playoff competition.
Central Division Finals
#1 Austin Bruins vs. #3 Bismarck Bobcats
Game 1: April 18 @ Austin, 7:05pm
Game 2: April 19 @ Austin, 7:05pm
Game 3: April 25 @ Bismarck, 8:00pm
Game 4: April 26 @ Bismarck, 8:00pm*
Game 5: April 28 @ Austin, 7:05pm*
*if necessary
Midwest Division Finals
#1 Fairbanks Ice Dogs vs. #3 Wenatchee Wild (if series is 2-0 WEN or is tied 1-1 after two games)
Game 1: April 18 @ Fairbanks, 7:30pm
Game 2: April 19 @ Fairbanks, 7:30pm
Game 3: April 21 @ Fairbanks, 7:00pm
Game 4: April 25 @ Wenatchee, 7:05pm*
Game 5: April 26 @ Wenatchee, 7:05pm*
*if necessary
#1 Fairbanks Ice Dogs vs. #3 Wenatchee Wild (if series is 2-0 FBK after two games)
Game 1: April 18 @ Fairbanks, 7:30pm
Game 2: April 19 @ Fairbanks, 7:30pm
Game 3: April 25 @ Wenatchee, 7:05pm
Game 4: April 26 @ Wenatchee, 7:05pm*
Game 5: April 28 @ Wenatchee, 7:05pm*
*if necessary
North Division Finals
#1 Port Huron Fighting Falcons vs. #2 Michigan Warriors
Game 1: April 18 @ Port Huron, 7:00pm
Game 2: April 19 @ Port Huron, 7:00pm
Game 3: April 25 @ Michigan, 7:00pm
Game 4: April 26 @ Michigan, 7:00pm*
Game 5: April 27 @ Port Huron, 3:00pm*
*if necessary
South Division Finals
#1 Amarillo Bulls vs. #2 Topeka RoadRunners
Game 1: April 18 @ Amarillo, 7:05pm
Game 2: April 19 @ Amarillo, 7:05pm
Game 3: April 24 @ Topeka, 7:05pm
Game 4: April 25 @ Topeka, 7:05pm*
Game 5: April 28 @ Amarillo, 7:05pm*
*if necessary