Former RoadRunner forward Hayes makes NHL debut
January 7, 2014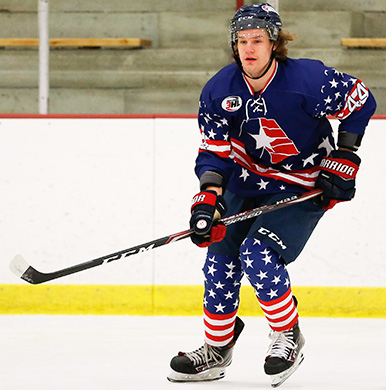 Former Topeka RoadRunners forward Eriah Hayes made his NHL debut this past Sunday night for the San Jose Sharks. Hayes was playing this season for the Worcester Sharks in the AHL.
Hayes, 25, has recorded eight points and 25 penalty minutes in 29 games for the Worcester Sharks during his first full professional season. The 6'4, 210-pound right wing has collected 12 points in 36 career AHL games with Worcester.
Hayes was originally signed as an undrafted free agent by San Jose on April 5, 2013. The native of La Crescent, Minnesota, played four seasons for Minnesota State University (Mankato), compiling 96 points in 153 career games and led the nation in shots on goal (186) in 2012-13.
Prior to attending Minnesota State-Mankato, Hayes played in the NAHL for the RoadRunners during the 2007-08 season. During that season, Hayes recorded 56 points in 53 games played during the regular season. He also recorded 10 points in 12 playoff games. For his efforts during that season, Hayes was also named to the NAHL All-Rookie Team.
"From day one, there was never a question that Eriah could play in the NHL," said Runners Head Coach Scott Langer. "He's a big power forward and a first-class athlete whose work ethic and persistence made him stand out among his peers in the NAHL. I couldn't be more proud of Eriah and his accomplishments."