Eagles defeat Warriors on Thursday, 4-2
December 19, 2013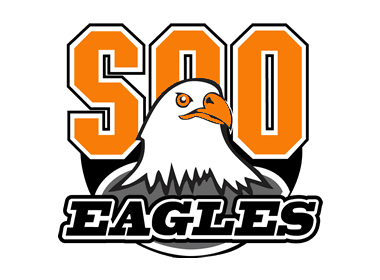 Soo Eagles 4 @ Michigan Warriors 2 – A new cast of players and a fast start helped the Soo Eagles to a 4-2 road win in Flint on Thursday night in the lone game in the NAHL.
The Eagles jumped out to a 2-0 lead in the 1st period thanks to goals from Dante Suffredini and Scott Cuthrell. Cuthrell, who was the NA3HL's Rookie of the Year last season while playing for the Cleveland Jr. Lumberjacks, started the season with the Warriors, but was recently picked up by the Eagles.
The Warriors cut the lead to 2-1 in the 2nd period on a goal from Colin Larkin. Then, early in the 3rd period, Tyler Groat would tie the game at 2-2.
That is as close as the Warriors would get however as eight minutes later, Trevor Boyd scored the game-winning goal with just over six minutes to play in the game. With :40 seconds remaining, Cuthrell added his second goal of the game on an empty-net tally.
Cuthrell ended up with a three point night and now has five points in his three games with the Eagles. Landon Trutt got the win in goal for the Eagles in his first NAHL start as he made 27 saves. Trevor Gorsuch took the loss, making 25 saves for the Warriors.